El Chaltén is the newest town in Argentina and the National Capital of Trekking. The first settlers say that at the beginning it was a "little signs town" because there were signs in which you could read "Registro Civil", "Delegación Municipal" but there weren't any buildings.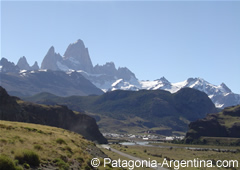 It was founded on October 12th 1985, on this day the decree that ordered its creation was signed, in order to promote human settlements in the Andean range of the province of Santa Cruz.
The provincial government built housing and this is the way the story of this tiny town with a population of 41 stable inhabitants according to the 1991 census began. Ten years later, they already were 371, and more than 1500 in 2010. An astonishing growth rate!
It is surrounded by the rivers De Las Vueltas and Fitz Roy, at the foot of Mounts Chaltén or Fitz Roy and Torre.
It is the closest town to Lago del Desierto, subject of a now settled long lasting conflict about the limits with Chile.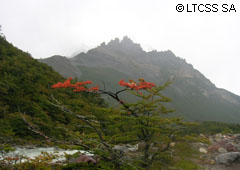 Chaltén is the name which the tehuelches (aborigines of the region) called the "smoking mountain" and that sometime later, Perito Moreno would baptize as Fitz Roy.
You can get to El Chaltén from El Calafate, located 220 Km away. Isolation is one of the main characteristics of these North corners of the Glaciers National Park. In El Chaltén cell phones sometimes don't work and internet connection is quite  expensive. On the other side this state of isolation is one of its most irresistible attractions.

El Chaltén is still a pollution free place and its inhabitants and authorities are making every effort to keep it that way. There is a garbage recycling system working in the town, the electric energy wires and telephone lines go "underground" to avoid the visual pollution of the landscapes, it is forbidden to take non regional animal or vegetal species. And everyone is trying to preserve their treasure: the fragile balance of the surrounding natural environment.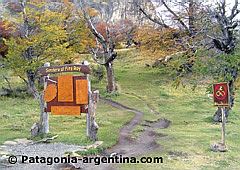 Most of the visitors of this town come attracted by one challenge: the practice of mountain climbing, trekking and walking on some of the imposing granitic needles surrounding the village.
There are many options: you can take simple paths, through the woods; others that include some climbing; or you can choose one of the most challenging expeditions on the planet: go through part of the Patagonic Continental Ice Field, where the Glaciers are born. In order to help you to decide we have a quick guide and several useful advices.
From December to March this paradise for adventure lovers attracts thousands of enthusiastic tourists. And the town's capacity is limited, so you must make far in advance reservations if you want to ensure you will have a place to sleep at.