Mt. Fitz Roy is one of the most appreciated peaks by mountaineers worldwide. Its altitude is 3,405 m.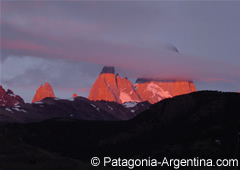 Mount Fitz Roy original name is Chaltén, that in Tehuelche dialect means "smoking mountain". This is due to a rare aeolic phenomenon that makes its top always appear as it was surrounded by clouds, which gives the mountain a smoking volcano look.
In 1877, the expedition led by Perito Moreno baptized it Fitz Roy, in memory of the sailor that explored the channels in Tierra del Fuego and the Santa Cruz river during the Charles Darwin expedition.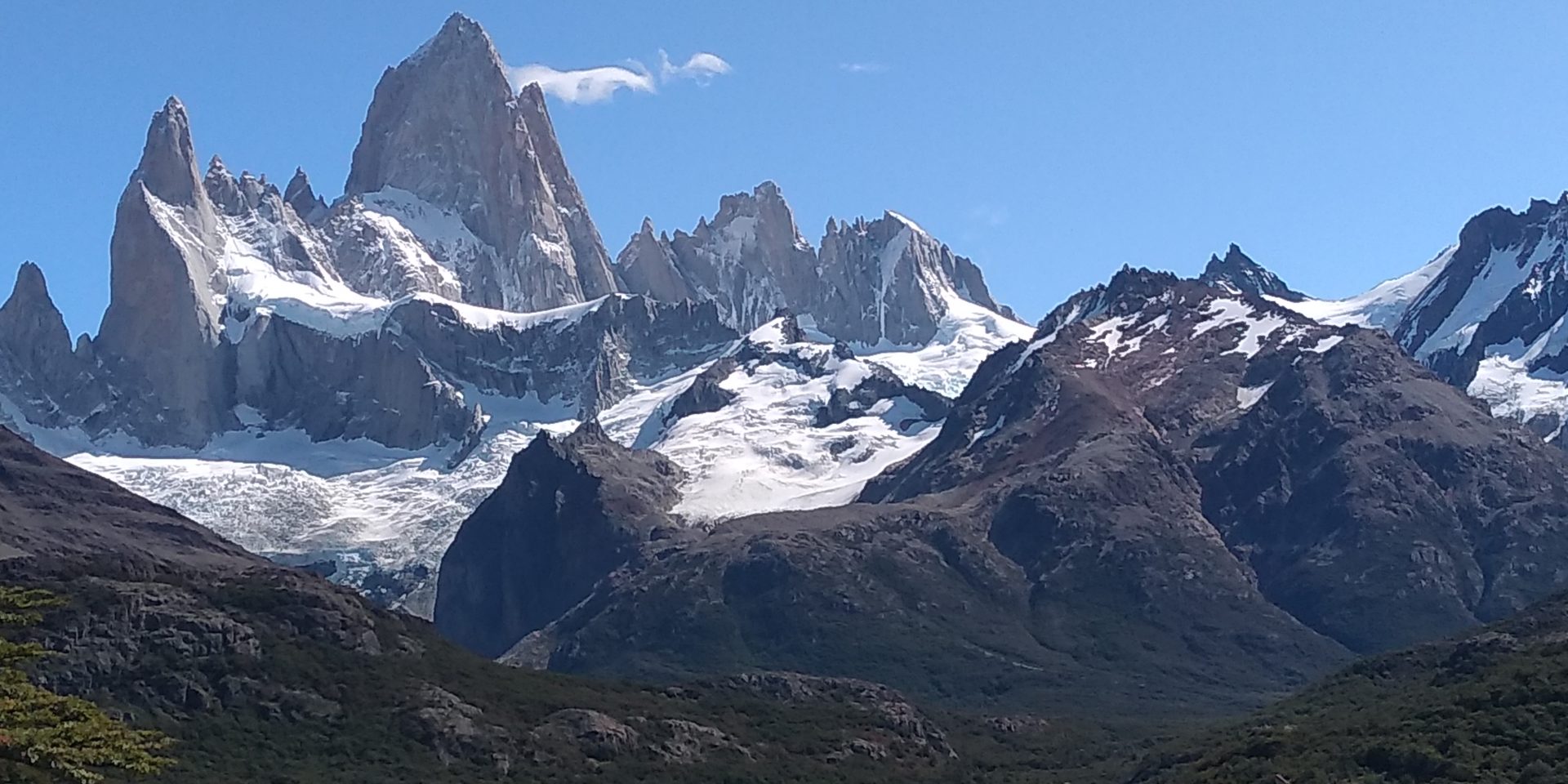 Also, in the same mountain range we find the Poincenot Needle (3,036 m), Mermoz Needle (2,754 m.), Guillaumet Needle (2,593 m.), and the Cerro Eléctrico (2,182 m.).
Not only experienced climbers can visit here, there are also paths for easy trekking that would take only 2 to 3 hours as well as options to climb the "granite walls", with different degrees of difficulty. 
These are the hikes near Mount Fitz Roy
Cerro Fitz Roy (long trail)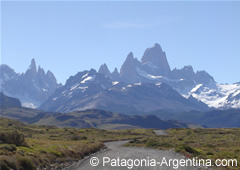 Duration: 8 hours. First, the Río Blanco base camp will be found and the beautiful Capri lagoon. Then a steep climbing of about 450 meters to the Laguna de Los Tres, where you can enjoy one of the best views of the Fitz Roy. And if you still have any strength left, a one-hour ascent will take you to the Piedras Blancas Glacier.
Cerro Torre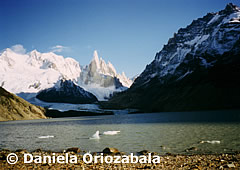 Duration: 6 hours. Easy walking to the Laguna Torre, from where you will be able to see the imposing view of the Torre, Standhart, Adelas, Grande and Solo peaks.
Piedra del Fraile
2-hour walk on flat terrain. It is 15 km. on the road to Lago del Desierto. It is a forest area with an imposing view of the northwest wall of the Fitz Roy. There is camping, shelters and cabins. Other walks from this site: Marconi Glacier (6 hours) and Paso del Cuadrado.
Chorrillo del Salto
It is a short walk, at 5 Km. from El Chaltén; following the road towards the Lago del Desierto you will find the beginning of the path and in 15 minutes you will reach this waterfall.
Lago Del Desierto
Several hikes can be started here, the most popular ones are to the Laguna Huemul (1 hour), Laguna Larga and Laguna del Diablo (4 hours).
Río Blanco y Laguna de los Tres: 3 hours
Lago Eléctrico: 9 hours
Poincenot: 2 ½ hours
Bahía Túnel: 2 ½ hours
Bridwell: 2 ½ hours
Laguna Toro: 6 hours
Pliegue Tumbado: 4 hours
For the truly experienced ones
Glaciers Grande and Torre: (8-hour walk. 5 hours on ice.) Crampons and technical equipment must be taken. Check with local suppliers. Minimum age required is 16 years old and good physical condition is a must.
Continental Ice Fields: It is an alternative with a very high degree of difficulty. Depending on weather conditions it can last between 6 and 11 days. Ascent through Paso Marconi and the opposite side of Fitz Roy and Torre and descent by Paso del Viento.
Another shorter option is not to reach the Continental Ice and view from Paso Marconi or Paso del Viento (Duration: 3 days)
Crossings:

Interlagos: Lagunas Capri, Madre e Hija, De Los Tres y Torre, 2 days.

Base Camp: Glacier Piedras Blancas, Lago Eléctrico y Piedra del Fraile – 3 days.