Viedma Lake unveils to the visitors just before arriving in El Chalten. And in the background, like a postcard, Viedma Glacier, the second largest in National Park Los Glaciares, is seen. Born in the Southern Patagonian Icefields, it flows into this lake with walls that are more than 40 meters high. Definitely one of the must-sees on your visit to El Chalten.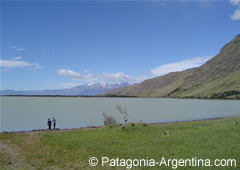 Lake Viedma is the first image of mountain landscape after miles of steppe, coming to El Chalten on Ruta 23 from El Calafate. This immense azure lake was discovered in 1782 by Antonio de Viedma, hence its name. It has an area of 1,088 square km.
With its 80 km. long and 15 wide, it is the longest in the National Park. The west bank is high and steep and through it River Tunnel flows. In the Tunnel Bay area you find the jetty and a picturesque inn. One recommendation: It is worth spending some time visiting Tunnel Bay and dine or have a tea at the Inn. The landscape seen from its windows is breathtaking: the whole lake unfolds in front of your eyes and in the background, the majestic presence of Viedma Glacier. A must!
From the banks of the lake you can see the Fitz Roy, Torre and Puntiagudo mounts.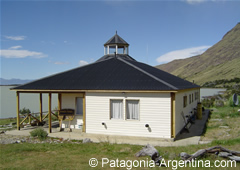 Generally, Tunnel Bay is the departure point to hire some of the sailing trips on the lake, which may or may not include a trekking on the Viedma Glacier. Much less known than the Perito Moreno, this glacier gives however the possibility of hiking and performing adventure activities on the ice in a more rugged and less populous environment. Let it be on your list when planning your trip to the Patagonian glaciers!