Mount Fitz Roy, or Chaltén, its aborignal language name, is the most appreciated peak by the lovers of climbing and trekking. The altitude is 3,405 m.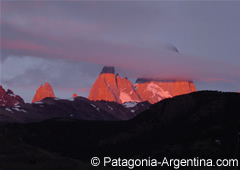 Mount Fitz Roy original name is Chaltén, that in Tehuelche dialect means "smoking mountain". This is due to a rare aeolic phenomenon that makes its top always appear as it was surrounded by clouds, which gives the mountain a smoking volcano look.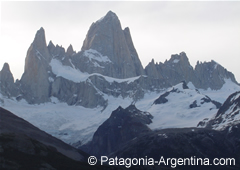 In 1877, the expedition led by Perito Moreno baptized it Fitz Roy, in memory of the sailor that explored the channels in Tierra del Fuego and the Santa Cruz river during the Charles Darwin expedition.
Not only experienced mountaineers can visit here, there are also paths for easy trekking that would take only 2 to 3 hours as well as options to climb the "granite walls", with different degrees of difficulty.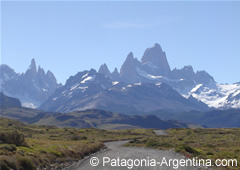 Duration: 8 hours. First, the Río Blanco base camp will be found and the beautiful Capri lagoon. Then a steep climbing of about 450 meters to the Laguna de Los Tres, where you can enjoy one of the best views of the Fitz Roy. And if you still have any strength left, a one-hour ascent will take you to the Piedras Blancas Glacier.