Home
> Patagonian Cooking
Patagonian Cooking
The vast Patagonian geography, its production, its immigrants and natives have permeated the land of the end of the world with delicious flavours. Cuisine, just like Patagonia itself, is very well differentiated in mountain range, central and coast regions. At the mountains the typical dishes are prepared on trout, salmon, deer base and some dishes were brought by the immigrants from Central Europe: Chucrut, Raclette, Fondue, and others. It also had some influence the food of the mapuches natives, the most known example is curanto. The central area has an essential element for food: lamb, it's the same situation for the Atlantic coast that also has the presence of fish and seafood. And in Chubut they have the famous Welsh cake. Friends from all over Patagonia are already sending us their recipes, take a chance, cook them and if you have any suggestion do not hesitate to contact us.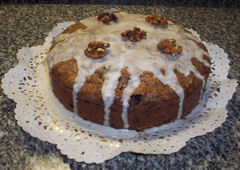 Welsh cake, despite its name, did not come from Wales. Actually, it constitutes a sign of the strength of the first Welsh settlers who arrived in the Valley of the Chubut river and how they faced the difficulties the environment … Continue reading →
Ingredients: Lamb leg: 1 Cider: 1 bottle Small onions: 1/2 kg. Big onions (finelly minced): 2 Sour green apples: 1 kg. Pepper and salt (to taste) Sugar: 1/2 cup Oregano: 1 pinch Oil: necessary quantity Garlic: 4 cloves Preparation: Put … Continue reading →
Ingredients: 10 Doughs for pasties 2 Chicken breasts (boiled) 2 Onions 1 Tomato 1/2 Green pepper 1 Quince 1 Green apple 1 Peach 4 Spoons of hen broth 1 Spoon of mustard 1 Spoon of paprika 1 Pinch of sugar … Continue reading →
Ingredients: 1 and 1/2 kilogram of conger eel 1 kg. of potatoes 1 onion 2 carrots 2 tomatoes 2 spoons of chopped parsley 2 garlic cloves 1 bay leaf 1 tea spoon of sugar 1/2 cup of oil Preparation: Clean, … Continue reading →
Ingredients: Clean fungi (boiled in water with 20% of vinegar): 1 kg. Garlic: 3 teeth Median Onions (little pieces): 3 Boiled carrots cut in slices: 3 Minced sweet red pepper (previously boiled): 1 Minced sweet green pepper (previously boiled): 1 … Continue reading →
Ingredients 200 grams of butter 160 grams of sugar 120 grams of unsweetened chocolate 80 grams of flour 5 eggs 160 cc. of milk 1 teaspoon of cinnamon 1 pinch of pepper, ginger and nutmeg Preparation: Beat the butter with … Continue reading →
Ingredients: 1 Whole loin 2 Large onions 2 Glasses of red wine 1 Cup of breadcrumbs Parsley, sage 2 Garlic cloves 30 grs of almonds 3 Eggs 50 grs of grated cheese Preparation: Bone and trim of most of the … Continue reading →
¬†Ingredients Salmon ¬†without skin and thorns 1 kg. Mayonnaise 1 kg. Garlic 1 clove (without the center) Leaves of fresh basil 2 Squeezed lemon 1 Salt – pepper (to taste) Preparation Put the salmon on a baker dish, cook in … Continue reading →
We have been asked more than once if a defined Patagonia cuisine exists, and we have always answered yes, because we find distinct regional trademarks, such as the use of wild boar, trout and venison. But rarely do we think … Continue reading →
Our visitor and member of Club Patagonia, Lola Quintiero, has sent us this recipe for an exquisite dessert that we would like to share with you. Celebrate the holiday season by putting something special on your table. Ingredients for the … Continue reading →
The two most iconic & emblematic Natural Monuments in Argentina, both declared World Heritage Sites, toured in six unforgettable days. The immense glaciers in Patagonia and the spectacular Iguaz√ļ Waterfalls in the north-eastern region of the country, will leave you breathless.