This province has a great variety of places for the practice of trekking and also offers the opportunity of mountain climbing for the experienced sportsman.
The main peak is undoubtedly the 
Fitz Roy
 next to the town of 
El Chaltén
 with a height of 3.441 m. Also, in the same mountain range we find the Poincenot Needle (3,036 m), Mermoz Needle (2,754 m.), Guillaumet Needle (2,593 m.), and the Cerro Eléctrico (2,182 m.).
EL CHALTÉN
The town of El Chaltén is rightly called the capital of trekking. You will find innumerable sites for the practice of this fascinating activity.
Cerro Fitz Roy: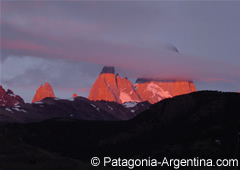 Duration: 8 hours. First, the Río Blanco base camp will be found and the beautiful Capri lagoon. Then a steep climbing of about 450 meters to the Laguna de Los Tres, where you can enjoy one of the best views of the Fitz Roy. And if you still have any strength left, a one-hour ascent will take you to the Piedras Blancas Glacier.
Cerro Torre: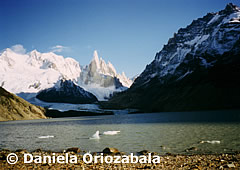 Duration: 6 hours.
Easy walking to the Laguna Torre, from where you will be able to see the imposing view of the Torre, Standhart, Adelas, Grande and Solo peaks.
Piedra del Fraile: 2-hour walk on flat terrain. It is 15 km. on the road to Lago del Desierto. It is a forest area with an imposing view of the northwest wall of the Fitz Roy. There is camping, shelters and cabins. Other walks from this site: Marconi Glacier (6 hours) and Paso del Cuadrado.
Warning: All these places are private property. In order to enter, permission must be obtained from the shelter´s owner (Mr. Arbilla).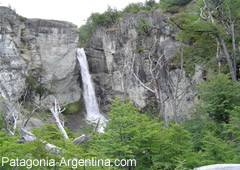 Chorrillo del Salto (Waterfall): It is a short walk, at 5 Km. from El Chaltén; following the road towards the Lago del Desierto you will find the beginning of the path and in 15 minutes you will reach this waterfall.
Lago Del Desierto: several walks can be started here, the most popular ones are to the Laguna Huemul (1 hour), Laguna Larga and Laguna del Diablo (4 hours).
Río Blanco y Laguna de los Tres: 3 hours
Lago Eléctrico: 9 hours
Poisenet: 2 ½ hours
Bahía Túnel: 2 ½ hours
Bridwell: 2 ½ hours
Laguna Toro: 6 hours
Pliegue Tumbudo: 4 hours
Other proposals with a certain degree of difficulty:
If you are not experienced in mountains, talk to guides who are specialized in El Chaltén.
Glaciers Grande and Torre: ( 8-hour walk. 5 hours on ice. Grampones and technical equipment must be taken.(check with local suppliers). Minimum age required is 16 years old and good physical condition.
Continental Ice: It is an alternative with a very high degree of difficulty. Depending on weather conditions it can last between 6 and 11 days. Ascent through Paso Marconi and the opposite side of Fitz Roy and Torre and descent by Paso del Viento.
Another shorter option is not to reach the Continental Ice and view from Paso Marconi or Paso del Viento (Duration: 3 days)
Crossings:

Interlagos: Lagunas Capri, Madre e Hija, De Los Tres y Torre, 2 days.

Base Camp: Glacier Piedras Blancas, Lago Eléctrico y Piedra del Fraile – 3 days.
EL CALAFATE
Famous for its proximity to glaciers. It is also apt for trekking and is practiced on the very top of the glaciers, a unique experience…

Isla Solitaria: facing El Calafate, easy access but you should ask beforehand which area of Lago Argentino you have to cross in order to reach the island.
Cuevas del Gualicho: it is located 7 km. from El Calafate, archaeological site with cave paintings on the coast of Lago Argentino.
Glacier Perito Moreno: 2-hour walk on the glacier, and navigation on Brazo Rico. An excursion from El Calafate takes a full day. Minimum recommended age is 10 years and maximum 60.
Glacier Perito Moreno, Glacier Frías y ascent of Cerro Cervantes: Duration of 2 to 3 days. Specialized guides are recommended.
PERITO MORENO
The best area for trekking is in the Perito Moreno National Park at 310 km. south of this locality. Travel through this Park is reserved for those willing to camp or stay at some of the estancias in the area.  Once inside the Park, contact the Park authority to register your entry and program your visit. There is only one camping area (no services) and is placed at the eastern point of Lago Burmeister (16 km. from the Park Ranger´s house).
The inner roads are not appropriate for cars or low vehicles. The estancias Belgrano and La Oriental, as well as the Park Ranger´s house are the starting points for the classic walks combined with short transfers by car that last from one to four days.
For longer itineraries there are two other camping areas in which campfires are not permitted, heaters must be used. These are: Areas surrounding the information center and El Rincón.

Lake Burmeister: (16 Km.)
Peninsula Belgrano: (10 Km. )
El Rincón: (16 Km.)
Lake Volcán: (19 Km.)
Cerro León: (9 Km.): Duration is 4 hours, round trip. The ascent will give you the possibility of an incredible panoramic view and see the flight of the condors.
Natural Path Peninsula Belgrano: (10 km): Starting at the Istmo del Lago Belgrano a 2-hour walk with a breathtaking scenery.
Lagunas del Mie: (7Km.): Special for bird watching.
Laguna Roble: (10 Km.)
Crossings:
Puesto del Nueve/Lago Azara: Access by car to the Cerro Mie and following the eastern coast of Lake Belgrano, after 5 hours you will arrive to an old shepherd´s post with a shelter. From this place, different excursions are available to the blue Lake Azara or the Lake Belgrano waterfall.
Valley Cerro San Lorenzo: The glaciers in this area are the scenery of fascinating exploration. By 4×4 vehicle some 15 km to a wild camping area. Then a 5-hour walk to be able to view the highest peaks of Patagonia.
Source: Subsecretaría de Turismo de Santa Cruz.