Route 40 continues southward, passing Tres Lagos (Three Lakes), 200 km from Gregores. A little after Tres Lagos we meet up with Provincial Route 23 which can take us to El Chaltén, National Capital of Trekking. This route borders Lake Viedma up until the side of Monte Fitz Roy and Cerro Torre.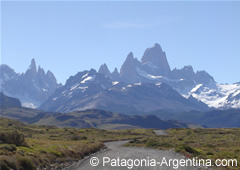 This is a really beautiful area, still virgin and wild. It is worth it to take a detour to see it, and also you can go on a short trek. Later the route continues onto the spectacular El Calafate and the Glaciers National Park.
From Gobernador Gregores it is 360km of gravel road to El Calafate, without taking into account the detour to El Chaltén.