Gobernador Gregores is a stop that gives you the chance to rest and enjoy yourself in a visually enchanting steppe. Its history, landscape and people are a breath of fresh air for any traveler.
It is located at the core of the province of Santa Cruz, at 280 meters above sea level. It is the Head of District of Río Chico and a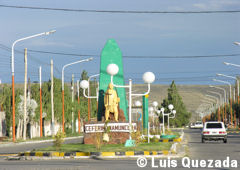 well-known agricultural development pole, which has recently been fostered by the production of fine fruits, vegetables and other regional fruits. This kind of exploitation is mainly developed in the area of Isla Fea (Ugly Island, formed by the division of Río Chico and named after the problems people encountered to urge cattle at the time where schinus or bushes were bigger and more abundant).
It is situated 216 Km. (134 mi.) from Puerto San Julián along route Nº25, 190 Km. (117 mi.) from Comandante Luis Piedrabuena along route Nº27 and 60 Km. (37 mi.) from National route Nº 40 through route Nº25.
City origins
The town was created in March 1922 by the Austrian José Kuney Posne, who built the first house in the spot. It was made of wood and the roof was made of metal sheets from old 20-liter fuel barrels, marketed in the area at that time. It is currently known as "la antigua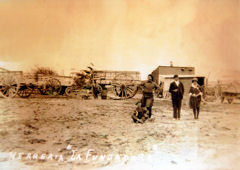 herrería" ("the old smithy") and it's a must for those who want to know Gobernador Gregores.
Soon later, Mariano Pejkovic, Francisco Salinas, José Chalub, among others, settled their businesses there.
On January 2nd, 1925, by Decree of the Government of the National Territory of Santa Cruz, the name of "Cañadón León" was given to the village, due to the proximity to the ravine where many American pumas (usually called lions) lived.
Later, an urban sector of 1,000 has. was established by decree in 1938 and the first measurement was carried out. During the same year the Development Commission was formed, and the first president was old neighbor Mr. Luis Sánchez. In 1958, at the neighbors' request, the General Controller of the Province of Santa Cruz, Dr. Luis Pedro Priani, established the present denomination of "Gobernador Gregores" in memory of Corvette Lieutenant Juan Manuel Gregores, who was one of the most important governors of the province during the '30s.  March 23rd was established to commemorate the foundation of the city.
Gobernador Gregores: one stop, many options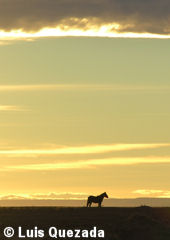 Gobernador Gregores is a stop in the route that offers visitors the chance to rest and enjoy themselves in a visually enchanting setting. There you can fish in the surrounding lakes, enjoy the steppe landscape and go on tours to nearby places.
One of the most beautiful looking attractions is the tulip and daffodil cultivation. Several nurseries began with this activity and currently allow visitors to know their plantations, observe and buy these delightful flowers.
For those who have a historian's soul or are interested in the past of this place, it is also possible to visit some attractive spots.
The origin of the city of Gobernador Gregores is closely related to "La Herrería" ("the Smithy"). In March 1922, the Austrian José Kuney Posne built this small house, made of wood and metal sheets from old 20-liter fuel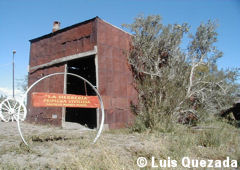 barrels, marketed in the area at that time. Next to this house, he built a smithy (a wagon and cart garage) with machinery from the area of Puerto Deseado, hometown of this pioneer. He chose this spot because it was a necessary route for wagons and carts that carried wool and leather from the mountain range and the center to the town of Puerto San Julián. On the other hand, he also planned on providing food and other goods to the inhabitants of the area. One of the "cart" lines that traveled across the region at that time belonged to José Font, who became well-known after the Rural Strike as "Facón Grande". Today, the old smithy can be visited on the intersection of Alberdi and 9 de Julio St.
El Cordillerano and communication difficulties about the middle of the 20th Century.
This transport, officially created in 1944 by Rogelio Alvarez and Enrique Tolcachier, transported people and goods between Puerto San Julián and Lake Posadas, going through Gobernador Gregores.
In 1960, the Lada family purchased it from Mr.  Marcelo Schupbach and started providing a weekly service. The vehicle was a gasoline-powered Studebaker, which could carry 20 passengers and traveled from San Julián to Lake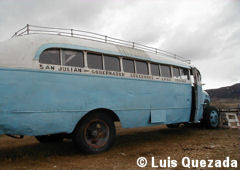 Posadas (nowadays, Hipólito Irigoyen), and covered an approximately 1,000 Km. (621 mi.) round trip.
At that time, Lake Posadas had a few houses, a First Aid Room, a Police Station, the manor of Estancia Lake Posadas (owned by González Pedroso) and the School-Home. Almost 20 people worked in this school, including teachers (from the provinces of Catamarca, Córdoba and Misiones, and attracted by good salaries) and service personnel.  This, together with the relatives of the inhabitants, triggered a relatively important passenger movement.
Among its functions, the bus was in charge of the mail service for the estancias by the road, leaving or collecting their correspondence or parcels. It was also in charge of the mail service between San Julián and Lake Posadas, including Gobernador Gregores, Tamel Aike, and Bajo Caracoles.
In 1963, there was one of the heaviest snowfalls in the history of the area and many animals died.  It was then decided that a Cessna 180 plane would take on this service, landing on towns (with up to three passengers) or dropping parcels and mail in the corresponding estancias. The air-ticket cost the same as the bus ticket. In 1965, a new unit was acquired: a Ford 350 that could carry 14 passengers and drive on snowy or muddy roads.
Climate
Cold and dry, with a maximum mean annual temperature of 14ºC (57º F), and a minimum of 3ºC (37.5ºF). Temperature extremes reach 30ºC (86ºF) in summer and -20ºC (-4ºF) in winter.
T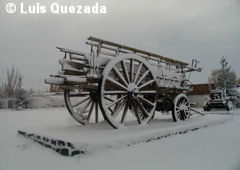 he average annual precipitation is 211 mm.
This part of the province of Santa Cruz is one of the most affected areas by the desertification process which hits the entire Patagonia, caused mainly by sheep extensive grazing. For this reason, and according to recent policies, inhabitants were encouraged to grow fine fruits and tulips, among other products, which entail a lower or no risk at all for the environment.
The cold and dry weather is one of the greatest advantages of Gregores at the time of reorienting its productive activities: products are stored naturally and it is not necessary to use pesticides, because the environment is of unequalled purity.
How to get there
There are many ways to get to Gobernador Gregores, thanks to its geographical location in the center of Santa Cruz province.
From the North take route Nº3 (for example, from Buenos Aires), pass by Comodoro Rivadavia, then Caleta Olivia, and turn at Pico Truncado to connect with route Nº43 and then take route Nº40. Finally, turn East on route Nº 25 just before getting to Río Chico.
From Bariloche, take route Nº 40 to the South and then route Nº25.
From the South, e.g. from El Calafate, go North along route Nº 40 and turn at Lake Cardiel on route Nº 29.
From the South, e.g. from El Calafate, go North along route Nº 40 and turn at Lake Cardiel on route Nº 29.
What to see around?