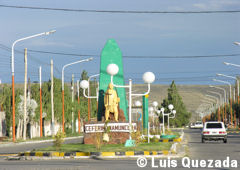 It is 128km of gravel road in good condition from Perito Moreno to Bajo Caracoles. Bajo Caracoles is not interesting from a tourist standpoint, but it must be mentioned as a resting point and as a place to purchase provisions as it is the main tourist center in the region. There is a hotel, market and a gas station.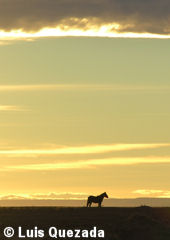 The next locality, Gobernador Gregores, is not located on Route 40 but is the largest urban center in the region. It is exactly in the middle of Santa Cruz province. There are approximately 2200 habitants and contrasting with the surrounding desert, it is an agricultural zone. There is lodging and services.
From Gobernador Gregores we can enter the National Park Perito Moreno to visit its lakes and Mount San Lorenzo, the tallest peak in the Southern Andes, a site known to mountain-climbers from over the world.