The Captivating, Legendary and Problematic Route 40
National Route 40 crosses the country longitudinally, connecting small villages and big cities from Cabo Vírgenes (Santa Cruz ) to La Quiaca (Jujuy). This route has become an attraction for tourists and the spoils of war for politicians on duty. In this article we tell you how it is being transformed. We invite you to go through it!
National Route 40 can practically be considered Argentina's backbone, running along 5,000 kilometers (3,100 mi), crossing 18 important rivers, 20 National Parks and Nat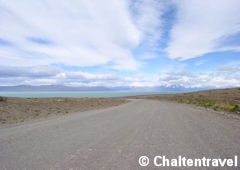 ural Reserves and connecting 11 provinces: Santa Cruz, Chubut, Río Negro, Neuquén, Mendoza, San Juan, La Rioja, Catamarca, Tucumán, Salta and Jujuy,.
Similar to Route 60 in the United States, but many kilometers longer and reaching higher altitudes (almost 5,000 meters -16,400 ft- above sea level in Abra del Acay, Salta), Route 40 has become the new star of tourist products offered in the country, which is why it is planned to be completely paved by 2010.
Not all that glitters is new pavement…
Even though the government has, in theory, a clear intention to pave this very important route, in practice, there are some bureaucratic difficulties and conflicts of interest against which inhabitants –at least from the south- are ready to raise their dissident voices.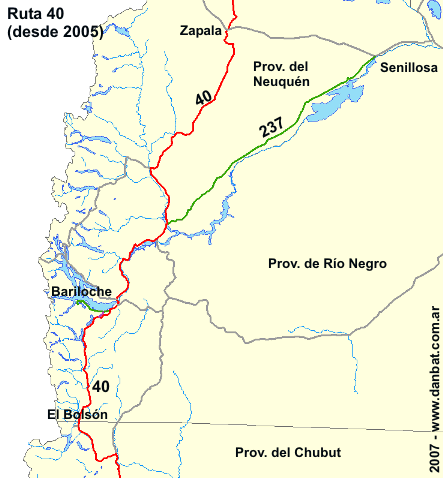 The Secretary of Tourism provides funds to the provinces for maintenance and additional infrastructure works, and the provinces of Neuquén and Mendoza have done so. However, further south, in Río Negro, the situation is different. Apparently, the money destined to pave Route 40 has been secretly diverted, however, the maps started showing route 40 as paved. What was the trick? Daniel Barrios, a neighbor from Bariloche, explains it clearly in his Web page: "Instead of actually paving Route 40, which runs far from the mountain range, two other paved routes were renamed after it: Route 237 going from Senillosa to Bahía López, and Route 258 going from Bariloche to Epuyen". This way, Route 40 now goes across Bariloche and El Bolsón, the stars of the north Patagonian lake region.
But, has Route 40 really been paved?
What about dear old Route 40?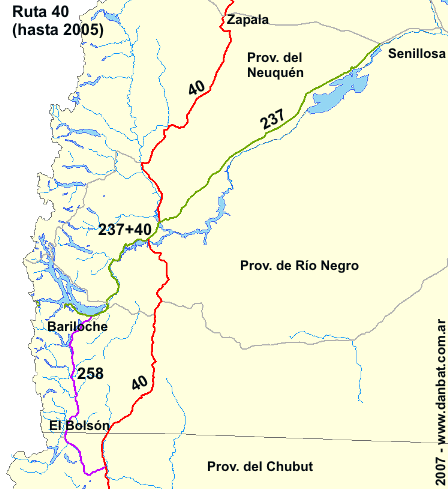 Former Route 40 has passed to the hands of provincial governments and is now called the "old route 40". The decision to pave the route to El Bolsón and Bariloche and to leave out a vast region from Alicura dam in Río Negro to El Maitén in Chubut -going across Cerro Alto, Pilcaniyeu, Las Bayas and Ñorquinco- is a political decision aiming to drive tourists to a region promoted well enough.
Something similar happens to the route that borders Lake Cardiel in Santa Cruz, where the new route has been outlined further to the East, near Gobernador Gregores.
Everyday Problems
For practical purposes, the alteration of the outline and the name of Route 40 will cause some problems until the modifications are officially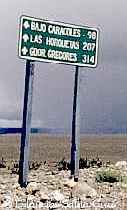 set and the local people get familiar with them.
Visitors will have to update their maps and brochures and will probably need directions from the local people when traveling the road on their own.
Inhabitants will have to restate their mailing addresses and update the kilometer where they actually live since these changes will force them to act as if they had moved.
Likewise, when car accidents take place in this region and have to be officially reported, there will be confusing legal aspects and bureaucratic issues. Not to mention that many officers will make mistakes when they record the information, since many of them work using their memory and knowledge of the area.
But it is no news that the decisions taken by a few for their own benefit (or to take federal funds) affect the lives of many others.
From South to North
Despite these ups and downs, Route 40 is still an astonishing road, a rolling myth, the place of places that represents a milestone. For those who dare take it, there will always be a "before and after" the trip on Route 40. Below you will find a brief summary of the route, as well as some interesting facts from its history.
Since its creation in 1935 and while kilometer 0 (zero) was located in Mendoza city, on the intersection of San M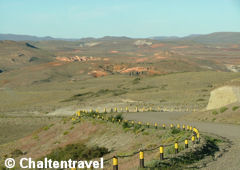 artín Avenue and Garibaldi Street, the route was divided into North and South. But as from 2004, the Highway Department (Dirección Nacional de Vialidad) moved this point to Cabo Vírgenes.
From the current kilometer 0, located 124 km (77 mi) from Río Gallegos -the most southern point of the continent- up to Puna in Jujuy, the route is approximately 5,200 km (3,200 mi) long and goes across a variety of climates, geographies and cultures.
It borders the Andes range for the most part, from latitude 52º to parallel 22º 45', and goes through three different regions: Patagonia, Cuyo and Northwest.
The area of the Patagonian region that Route 40 crosses (Santa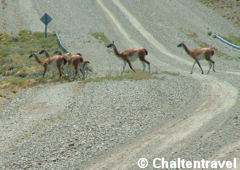 Cruz, Chubut, Río Negro and Neuquén) shows a geography of plateaus and mountains and arid cold climate. This area is characterized mainly by a landscape full of lakes, mountains and forests. Some outstanding points are: Cabo Vírgenes, Río Turbio coal bed and Perito Moreno Glacier in Los Glaciares National Park, Cueva de las Manos in Perito Moreno National Park and Los Alerces National Park, El Bolsón, San Carlos de Bariloche and San Martín de los Andes.
In Cuyo region (Mendoza, San Juan and La Rioja), the geography varies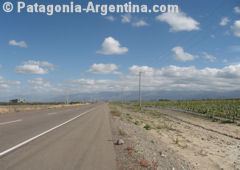 between plains and mountains and the climate is mainly arid. Here, the rivers come down the mountains to provide water for the vineyards, whose products are internationally well-known . The most outstanding points touched by Route 40 along this area are: Caverna Las Brujas, Las Leñas, Agua del Toro dam, Laguna Diamante, the famous Penitentes, San Rafael, the imposing Aconcagua, Talampaya National Park, Valle de la Luna and Chilecito.
On the other hand, in the Northwest (Catamarca, Tucumán, Salta and Jujuy), the geography presents plateaus and mountains; the climate varies between high altitude arid climate and subtropical. Landscapes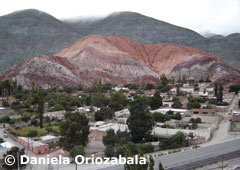 are breathtaking, showing mountains in thousands of colors and green valleys, full of vineyards. But in the northwest the beauty of nature equals the cultural richness, since Inca and Kolla traditions are kept intact, alive and everlasting in each town and every inhabitant of these high lands. Some of the interesting points the route joins are: Santa María, the Quilmes Ruins, Cafayate, Angastaco, Molinos, Los Cardones National Park, Nevado de Cachi, Abra El Acay and San Antonio de los Cobres.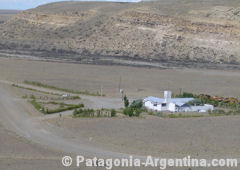 Route 40 and its surroundings bear an endless number of attractive places. Some are displayed as treasures in a showroom. Others are kept a secret. You only need time to discover them. Go ahead and dive in the "Route 40 experience"!
Some tips
For those who want to join in a trip along this mythical route, here are some tips:
It is convenient to travel around Cuyo and the Northwest in the winter season since summer rains tend to flood and badly damage the route. In Patagonia, instead, the best time is from October to April, since winter snow and ice make the trip harder.

In terms of clothing, for dry mountain winds or snow storms it is advisable to have a spare change of light clothes and warm clothes as well as sunscreen lotion and related accessories (sun glasses, lip balm, gloves).

Although the trip can be made by car, it is convenient to increase the standard tire air pressure (28 pounds) to 32 pounds.

Water is vital in this kind of trips. A drum to quench your thirst, to use in an emergency or for the engine is always useful.
Related notes:
A 5000 kilometers long Tourist Corridor