In order to go to Los Antiguos, one must travel 60km on asphalt towards the mountain range, along the south shore of the beautiful Lake Buenos Aires.
After traveling for about 10km from Perito Moreno you can already begin to see the lake, second only to Lake Titicaca in length in all of Latin America, extending far into Chile. Its intense blue waters are evidence of its profound depth. On the Argentine side the beaches are composed of smooth rocks and surrounded by steppes, while on the Chilean side the sea-like lake lies between dramatic mountain peaks. From the Chilean side the lake empties into the Pacific vía the Baker River, the largest river in Chile. There are well-equipped camp grounds, as well as tea-houses and places to rent horses at the lake.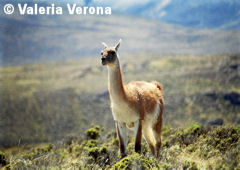 I Keu Konk, "the place of the ancients," is the original name of Los Antiguos. Extraordinarily, the new Spanish name preserves the original title while paying homage to the spirit of this place, sacred to the ancient Tehuelches. The microclimate is excellent and allows for the cultivation of cherries, strawberries, raspberries and other fruits. In January the provincial festival of the Cherry is celebrated.
There is a lot of tourist traffic, in part due to the joining of Provincial Route 43 with National Route 3, which runs along nearly all of the Atlantic coast of Patagonia.