Continuing along this solitary stretch of Route 40 we begin to be able to see guanacos (large mammals similar to llamas) and ñandúes (large birds similar to ostriches) grazing in the distance. There are only 3 km of asphalt on this stretch of road, the other 85 km are gravel. A little before arriving at Río de Mayo the plateau turns into stunning cliffs about 100 meters in height, allowing for beautiful views of the river.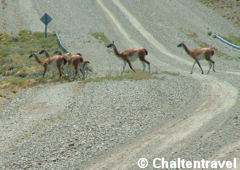 Río Mayo is a cattle ranching center with about 2,500 inhabitants. It also offers a complete array of services as it lies at a road junction.
During November Río Mayo hosts the national Sheep-Sheering contest, which is the most competitive in Patagonia. It has strict rules that not only take into account the duration and quality of the work (whether or not the fleece is broken) but also the treatment of the animal.
This is also one of the towns in the Province of Chabut that has a pilot program of harnessing the powers of the winds to generate energy. You can visit the windmill park if you wish. Also, from Río Mayo you can reach Chile via Paso Huemules, without crossing through mountains.