In the near future we might see the legendary Route 40, which runs from la Puna (the high plateau) to the glaciers, become easier to travel.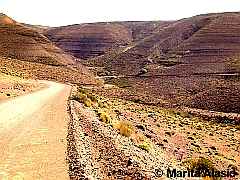 Can anyone imagine what represents a journey down this backbone of the Americas? Can the life of a person continue to be the same after traveling these thousands of kilometers by the same roads used by the ancient inhabitants of this land? If a journey, a true journey, always transforms something in the traveler, how will our vision of the world be impacted by experiencing so many different cultures, tastes and lifestyles on one trip? It is impossible to say how, but we do know that right now this adventure is reserved for only a few, those intrepid and headstrong travelers, who are blessed with strong physical and mental qualities.
When this project is finalized we hope that information will be made available pertaining to how to travel from one place to another, where to spend the night, and what services and activities are available at each stop. With this, the adventure can be much more enjoyable.
Route 40 has it's "0 kilometer" mark in Mendoza. From there, the route divides into two: Route 40 Northbound, which runs through the province of Mendoza, San Juan, La Rioja, Catamarca, Salta and Jujuy, until reaching Abra Pampa in the heart of the high plateau. It is a 1551 km journey. The Route 40 Southbound leaves Mendoza and travels through the provinces of Neuquén, Río Negro, Chubut and Santa Cruz, finishing in Punta Loyola, close to Río Gallegos. It is a journey of 3115 km.
This long stretch of road passes through mountains more than 3000 meters tall, wide valleys, 20 national parks, many nature reserves, and, of course, an invaluable diversity of cultures marked by beliefs, music and rituals completely different.
While parts are paved others are nothing more than small winding mountain roads. In the heart of Patagonia it varies from a rough road in the middle of a freezing desert to a good motorway embraced by mountains and lakes.
This project hopes to entice more international and domestic tourism to travel along Route 40.