Route 40: To Cañadón del Río Pinturas and Cueva de las Manos
In order to get to the Cueva de las Manos you must travel 160 km south. The road is gravel but well-maintained. If you plan to visit either El Chaltén or El Calafate, it is advisable to leave this excursion for the end. It is 120 km by Route 40 and 45 more via a detour.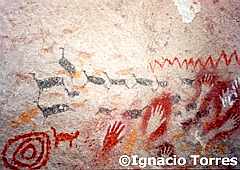 30 km from Perito Moreno you will encounter the Estancia Telken which is well set up for visitors. You can visit the Cueva de las Manos (Cave of the Hands) between December and February. There is a park ranger who lives there, a center of interpretations and a place to picnic. You can spend the night if you wish at the Hotel Bajo Caracoles, 7 km more towards the South.