It is a depression located at 7 Km. (4 mi.) from Gobernador Gregores and 800 meters (2,625 ft) from provincial route Nº 27, in the cattle breeding farm known as "Bella Vista". In 1921 this place was the setting for the Patagonian Strike repression.
Workers were slaughtered by the 10th Horse Mounted Regiment commanded by Lieutenant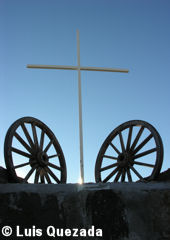 Colonel Héctor B. Varela. More than 200 rural workers died in defense of their freedom and stayed in this canyon forever.
At that time, the soldiers, so as not to waste their time digging individual graves, decided on a common grave in the canyon. The bodies were incinerated in a fire made with black bush, cut by the very same condemned workers before killing them.
More than 70 years later, in 1999, the local Town Council declares the Canyon of the Dead a "Historical Site", in memory of those who were sacrificed for defending the common man's dignity and rights.
In October 1999, a cross was erected in this place for the first time and a ceremony was held, with historian Osvaldo Bayer, author of "Los Vengadores de la Patagonia Trágica", as a special guest and speaker. In March 2000, the Town Hall erected a Memorial.
(Text provided by Ángel Subirá)