Close to Gobernador Gregores town center and along Provincial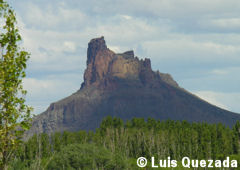 Route Nº 27, La Ventana Hill comes into sight.It is one of the city attractions, since it is a natural, superb viewpoint of the surrounding plateau.
Up on the top, one has the sensation of contemplating the "entire Patagonia". However, it's attractive not only for the view but also for the variety and abundance of fauna (hares, guanacos, foxes, partridges, tinamous, and Andean geese).