To organize your visit to Puerto Madryn it is important to know the seasons of wildlife watching.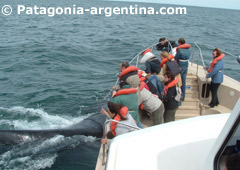 Whales: May to December. The highest gathering is during October.
Sea Elephants: All year long. The breeding season is between December and March.
Sea Lions: All year long. Breeding season is the same as the sea elephants' one.
Penguins: October to March. The best season to see them is after November, once the babies are born.
Commerson's Dolphins: All year long. The best place to see them is at Rawson's port area.
Dark Dolphins: December to March.
Orcas: January to April and October to December. Note that orcas' watching is very difficult because their behavior is unpredictable.
Birds in general: All year long.
Martinetas, Choiques, Guanacos, Hares and Gray Wolves: All year long