Surrounded by lakes Nahuel Huapi and Gutierrez, Otto Hill is for sure worth a visit: the  aerial tramway to the top and the views you get  from the spinning cafeteria at the top are unforgettable! And just a step away from the center of Bariloche.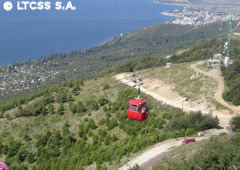 The itinerary starts downtown taking Av. De Los Pioneros to find the access after 1 km.
After the first 4 km. you arrive at Piedras Blancas, where you notice the anticipation of the splendid view from the top, of the Nahuel Huapi, Moreno and Gutiérrez lakes and the Tronador, Catedral and Campanario peaks.
To view this scenery or trying a sleigh ride or paragliding, you can also use the lift at Cerro Otto taken at the lower station located at Km.5, Av. De Los Pioneros.
.