Chapelco is one of the best known ski resorts in the country. It has modern means of elevation, paradors and many activities besides skiing: snowboarding, snowmobiling, snowshoeing and sledding. And best of all: its typical lenga forest on the hillsides.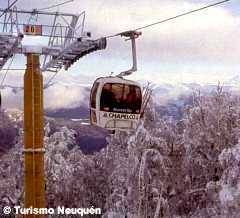 Following the shore of Lake Lacar and continuing on route 19 for 20 km. you reach the Chapelco Ski Center.The highest peak is 2,394 m. high.
You can ascend with a lift up to 1,600 m. and view the mountain range and the Lanín volcano.
In summer it is a suitable place for the practice of horseback riding, trekking, paraglider and 4×4 vehicle tours.