On the hillsides of the Cerro Krund, 27 kilometers from Ushuaia on route 3, this modern complex is located. It is the southernmost Winter Sports Center in the world.
It has 15 suitable tracks for all the levels: 5 green (beginners), 4 blue (intermediate), 4 red (advanced) and 2 black (experts). They total 17 kilometers of longitude and they cover a skiing surface of 400 hectares. Besides, this ski complex features a S.I.F. Competition rink suitable for National and International competitions. Off-rinks are exceptional and suitable for the most demanding skiers, and ideal for extreme skiing or snowboarding.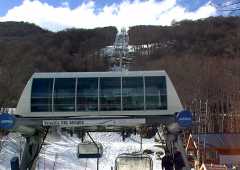 It has got very modern elevation means, with a capacity of up to 5,000 persons per hour.
The equipment for rental is of the most advanced type and it is constantly renewed according to the tendencies of each season. There is a system that maintains the boots automatically odorless and warm.
Cerros Castor's Ski School has 20 trainers, who teach ski, snowboard and snowblade. There is also a special school for kids aged 4 to 14.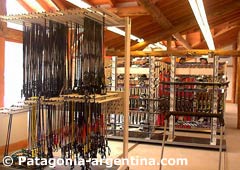 Among other services, this complex has got coffee shops at the base, the middle and near the top. Also a mountain shelter at the peak. There is an ambulance and a First Aids room as well.
Although there is a general belief that the climate is too harsh, truth is that it is indeed ideal for practicing winter sports because it features the best quality of snow combined with the longest season in South America.  Everything is set so that an extraordinary experience can be enjoyed: Skiing in the End of the World…