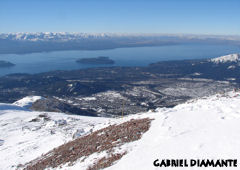 The most famous and well-known ski center of Argentina is only 19 kilometers from Bariloche. It's Cerro Catedral. It has the largest history in the Latin-American ski. This sport started here in the 30's when a group of young people founded the Club Andino Bariloche. Today it has got everything needed by the experienced skiers, international sport people, beginners, amateurs and also families looking for relax and some different vacations.
The Ski Center of Cerro catedral is also chosen every year by several groups of students to celebrate their graduation from hih school.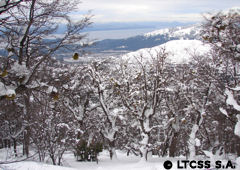 It's surrounded by an incredible natural beauty. From its tracks you can see the magnificent Lago Nahuel Huapi, the quiet Gutierrrez and Isla Victoria. Its privileged shape, with fan-shaped slopes overlooking the southeast region, gives it an excellent snow quality, suitable to practice all ski variations. That's why it's a classic.
But it's also a high quality center because of its innovations: year after year new technologies on transportation means are incorporated or possibilities to obtain good snow even when the climate conditions are not the best are found.
The complex offers 600 hectares of skiable surface, 40 means of elevation, 50 tracks and six green areas. This season it innovates with a new device to acquire tickets and equipment through internet.
Within its services, Villa Catedral, at the base of the hill, offers the tourist its traditional hotels and lodging centers, restaurants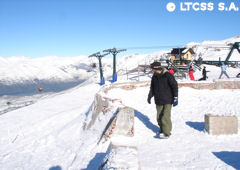 where the characteristic dishes of the region are served, such as smoked deer and all the different variations of trout and salmon, and the bars where the especial ambiance of après-ski (after-ski) reigns: hot chocolate to get some energy and the delicious fine fruits cakes. Also, the ski training centers and the associations of trainers are ready to offer you all the knowledge you need to get or improve your skills.
There is one licensed area on the hill: Catedral Alta Patagonia.
The transportation means are world-class level and renewed constantly. Among the new things is the so-called "sextuple kite", which has capacity for six skiers in its cabin.