Known by its fishing richness, this lake of turquoise and grey waters marvels every visitor.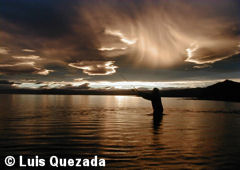 Located at the center Santa Cruz province, in the Department of Río Chico, this fishermen's paradise is 70 Km. (43.5 mi.) from Gobernador Gregores, along provincial route Nº 29 and 12 Km (7.5 mi.) from the national route Nº40 crossroads.
One of the main characteristics of this lake is its partly alkaline waters, which are an ideal habitat for the salmon family, such as rainbow trout, brook trout, and landlocked salmon.  This makes this spot a favorite for fishing enthusiasts, who arrive from various latitudes sure that they will satisfy their fishing yearning, since fish concentration here is one of the highest.
Moreover, the Gobernador Gregores Sports Department is still offering the traditional "Fiesta del Salmón" (Salmon Festival) which takes place annually during Holy Week, and where individual and team fishing contests are organized, divided into men, ladies and junior categories.
Lake Cardiel has a surface of 480 Km2, at 270 meters (886 ft) above sea level. It is surrounded by gullied hills and receives the waters from the plateau of La Muerte. These spills belong to temporary rivulets formed by the snow merged with filtration waters emanating at the base of the basalt cover. The main rivulet is Río Cardiel. Large quantities of sand are dragged by the west winds that blow over the surrounding plateau and accumulate along the east bank. The waters are saline and therefore ingestion should be avoided.
Vegetation is scarce, due to the continental cold weather and little rain.  Bare soils or covered in xerophytic vegetation are predominant – a typical characteristic of deserts.
The region's outstanding feature is the high plains covered in basalts, brown-colored stones which show that the sea covered the area in previous geological eras. Other findings, such as reptile remains and sea species, support this theory.
"Lake Cardiel" was named after Jesuit Father José Cardiel who, together with fathers José Quiroga and Strobel, established the Misión Salesiana Patagónica (Salesian Patagonic Mission) in February 1746. The names of his two partners were chosen to call the other two lakes of the area:  Strobel and Quiroga.