You can travel through the mythic Route 40 on your own, but with this option you may count with all the services to know the most beautiful corners, without worrying about the vehicle or the trip details in inhospitable areas. Impeccable and totally equipped buses, and picturesque stays are part of this great experience few times offered and now within your reach.
1° Day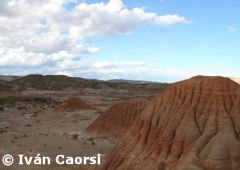 The bus departs from the centre of Bariloche road to El Bolsón. After a short visit around this mountain town, the trip continues towards the Petrified Wood in Sarmiento town. This is a superb natural scenery of big historical and geological interest. Afterwards, the journey carries on to Río Mayo town, a place with impressive history located in the middle of the patagonian steppe.
2° Day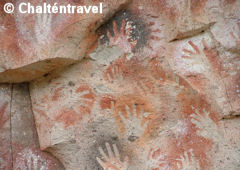 At 7.30 AM the bus leaves for the Cañadón del Río Pinturas (Pinturas River Canyon). After arriving there, there is a trekking (intermediate level of difficulty)  to get to the Cueva de las Manos (Cave of the Hands), one of the most important archeological sites of the continent (it preserves proofs of human settlements from 11.200 years ago). Once up there, the tourists will have an hour and a half guided tour that will show them a wide variety of ancient paintings.
3° Day: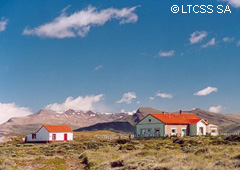 The bus leaves the Melenik ranch at 8.30 AM, making frequent stops inside the Perito Moreno National park to see the unique landscapes of Patagonia, such as the view to the Belgrano Lake and the Mount San Lorenzo. During the journey, it is possible to see wild fauna: guanacos, pumas, ñandues, foxes, condors, eagles and pink flamingos. By the afternoon it is the return to Melenik ranch.
4° Day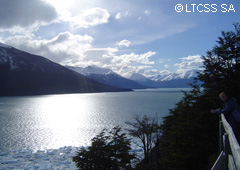 At 7.30 AM the bus leaves from the ranch to keep on visiting the arid Patagonian steppe. One of the stops is in the Cardiel lake, which is one of the few lakes not drained by any river. Once the Tres Lagos location is left behind, the Viedma Lake appears. There is an incredible view to the Cerro Torre and the Cerro Fitz Roy (if there are good weather conditions). Afterwards, the journey carries on towards the Argentino Lake and it finishes in El Calafate city.
Note
Transfers and lodging between Bariloche and El Calafate are included, as web as all breakfasts, bilingual guide, medicine cabinet, communications equipment and didactic material about the region and maps. Entrance ticket to the National Parks and provincial reserves is not included.