Visiting this Lake is one of the most beautiful excursions to do departing from El Chalten. The road skirts Rio de las Vueltas, that increases its rapids along its course while its waters become  more transparent as they get close to the lake. Besides enjoying the beauty of the scenery you can do some navigations as well as go hiking with varying degrees of difficulty.
Taking route 23 and after 40 km. you will reach this lake that has been a subject of a now settled dispute between Argentina and Chile. Take your time, because this is a mountain road and will take you 2 hours to get there.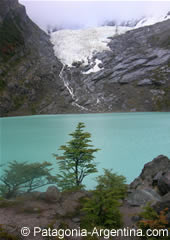 In spite of the isolation suggested by its name you will see landscapes of spectacular beauty: a tall wood of lengas and ñires (regional trees), of an intense green colour, with the permanent view of the Fitz Roy and Torre mountains, glaciers and waterfalls.
After 8 km. you will find the northern limit of the Los Glaciares National Park and at Km 13 you will cross a bridge over the Blanco River. On the right bank of the Eléctrico River, there is a path leading to the Piedra del Fraile shelter (if you want to ascend for 2 hours). If you want to reach the lake, then continue for 29 km. following Laguna del Cóndor and observe the imposing northeast wall of Mount Fitz Roy and you will be at the southern tip of Lake del Desierto.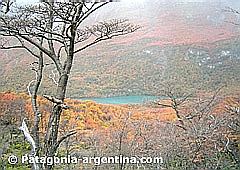 There are also options of navigation on the lake, you can take walks of different degrees of difficulty and you can also choose to spend the night in a camping area with all the services.