This city with a population of 107,000 is the capital of the Province of Santa Cruz.

Sitting on the Gallegos river, it was first named San Alfonso but the El Cano Armada in 1526. The origin of the present name is unknown.
From 1885 to 1895 national authority is established with an administrative organization. Until 1912, the land was occupied for sheep raising activities.
From 1912 to 1920 advantageous conditions for settlement in this then incipient town, were offered to Malvinas Islands and southern Chile residents. Initially, Argentinians constituted 17% of the total population, the majority was English and a high percentage of Chileans and Germans.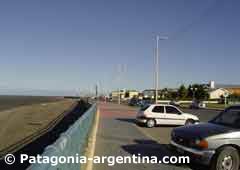 The increasing commercial activity was the starting point for the development of Río Gallegos. The first bank was established in 1899 (Bank of Tarapacá and London).
In spite of these signs of progress, the city did not grow as much since investors still lived in Punta Arenas, Chile. By 1910, most of the commercial establishments were legally established in Argentina.
At the same time, Spanish and Italian immigration began and Río Gallegos developed the profile of a city. Today, it offers all services required by the visitor and is the most important land gateway towards the Glaciers National Park.
What to see around here?