Excursions in Ushuaia
Ushuaia has options to enjoy at all times of the year. Adventure in summer, skiing in winter and lakes, forests and hikes in any season!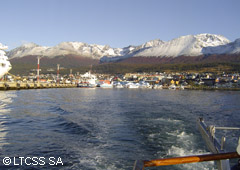 Ushuaia invites you to trek in the Tierra del Fuego National Park, go in 4WD to the interior lakes of the island crossing the Andes, depart for Cape Horn and Antarctica or navigate through the endless Fuegian channels.
Ushuaia, the "End of the World" and the beginning of everything, awaits you!
In this excursion, you will be participating in one of the most famous expedition cruises in the world. You will sail through the most austral seas, get to know uncharted corners of the world and enjoy an untouched nature.
To ski at the End of the World, an unforgettable experience. Seven days to fully enjoy Cerro Castor's ski center with lodging in downtown Ushuaia.