A day trip that combines a visit to Martillo Island Penguin Rookery with Estancia Harberton, the first settlement in Tierra del Fuego Island.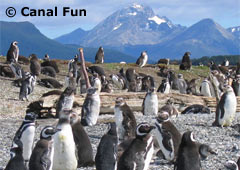 This excursion is long—6 to 9 hours—but worth it. First, you head east where you will pass the Isla de los Lobos (Island of the Wolves) and Isla de los Pájaros and the Les Eclaireurs lighthouse. Further ahead, you can see Puerto Almanza and Isla Martillo, famous for its penguin colony. Finally, you disembark at the Harberton Estancia. From here you can travel until the Moat Estancia, enjoying the river of the same name and glimpse the Chilean island of Picton.
To return, you have the option of traveling by land over national route 3 and complementary route "J" that runs along the Beagle Channel and Brown Bay (across from which lies Puerto Williams, Chile).
Afterwards, appears Mount Cornú and finally, Lake Victoria. From here it is 90 km to Ushuaia.