The "Les Éclaireurs" lighthouse is located in one of the many promontories that populate the Beagle Channel, in front of the city. It's one of the typical postcards of Ushuaia.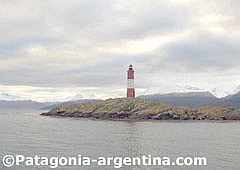 It is mistakenly called the "Lighthouse of the End of the World", name that Julius Verne used for the San Juan de Salvamento lighthouse, at Isla de los Estados.
This lighthouse is a tower painted in red and white stripes, 11 meters tall, and is equipped with a solar energy based lighting device.