The Trekking and Navigation excursion into the National Park of Tierra del Fuego allows you to see the wilderness of Patagonia in all of its splendor. You will not be just a watcher, but a part of Patagonia!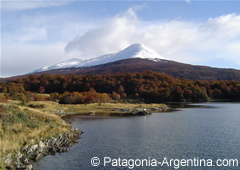 This organized excursion is a mix of traveling along simple paths and navigation in the Beagle Channel in a Zodiac boat (a small yacht). It lasts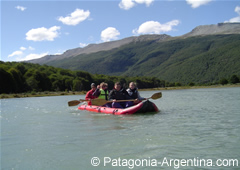 all day long.
It can be taken by persons of all ages but is not recommended for people with deambulation problems or for families with very young children who must be carried.
After arriving at the National Park via national route 3, you will walk along coastal paths. This trek lasts about 2 ½ hours and goes through the most beautiful parts of the park. The vegetation is abundant and includes conifers (lengas, ñires, coihues), notros (a native shrub), orchids and cinnamon trees.
Upon arriving at a boulder arising from the water called La R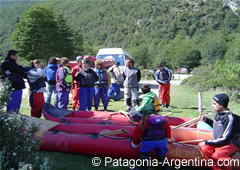 oca (the rock) you will board a Zodiac boat with a capacity of 18 persons to sail the Beagle Channel passing the small Isla de Lobos (Sea Wolves Island). Afterwards, you will sail around the Isla Redonda viewing the Imperial Cormorants that make the rock cliffs of the island their home. Then, you will disembark on the island and have lunch in a refuge, while enjoying a spectacular view of the Beagle Channel. The lunch is simple, in general pastas, with drink included.
The island is a nature preserve that has been open to tourism only for a short time. It is a place almost untouched by human hand. There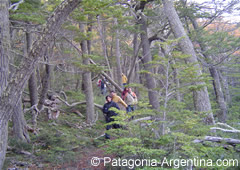 are two trails, each about 20 minutes in duration that you can walk at your own pace. Remember, protecting the environment is the top priority. It is best if our presence is unnoted and we leave nothing but footprints and take only photos.
In the early afternoon we continue sailing until Lapataia Bay (Bahía Lapataia). During this part of the journey you can see marine birds that are the most beautiful in all of southern Patagonia: penguins, petrels, albatross and Antarctic doves.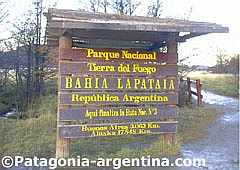 In Lapataia Bay, the end of the Americas, and also end of the Pan-American Route, you can travel along two short paths: El Mirador (the Lookout) and Las Lengas, which end in the area of the green lake (Laguna Verde) from where you return to Ushuaia by land transport.