Climbing the Martial Glacier lets you enjoy a stunning panoramic view of Ushuaia, the Beagle Channel and Isla Navarino in Chile..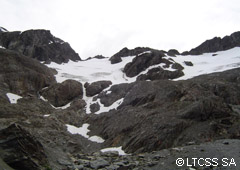 To reach the Martial chain one must travel only 7 km. from downtown Ushuaia, along a winding road that reaches the base of the ski slopes.
The only means of elevation once there is a chair lift, which takes 15 min. to travel from base to top.
You can also climb on foot, following the same route as the chairlift, bordering a stream.
There is regular transport from the city center. And the hiking options vary in length, ranging from one to many hours according to the chosen circuit. You should always ask at the base to check conditions of the paths.