The Beagle Channel navigation sets out from the tourist port of Ushuaia. There you can choose one of the different crafts available.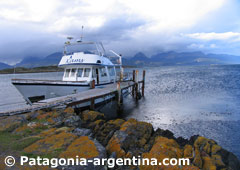 Our proposal is a twenty-passenger ship so you can experience a good approach of the surrounding natural environment and are assisted in a more personalized way.
You will start by skirting the bay, with a beautiful view of the most important buildings, such as the Marine Museum (housed in an old fort), the Museum of the End of the World, the industrial area, etc. In the background lie the majestic Mounts Olivia, Cinco Hermanos (Five Brothers) and Escarpados, as well as the Encajonado river. By looking at the opposite side, your eyes will meet the deep blue ocean.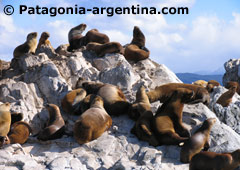 This sailing experience in a rather small boat along the Beagle Channel is definitely a must do.
Later, the boat sails southwest, away from the city and towards the heart of the Beagle Channel. It circumnavigates Alicia Island, which shelters a large colony of sea lions, until it reaches the Eclaireurs Light House, standing on a small island in the archipelago of the same name. This old light house dating back from 1919 is one of the icons of Ushuaia, and the farthest point of the excursion; therefore, the craft starts to head back through a different route.
Following this route, the boat sails around Isla de Los Lobos (Sea Lions Island) for about 20 minutes, which gives plenty of time to observe closely these sea mammals' games and rituals. The reigning silence emphasizes the impression that you are truly at the end of the world.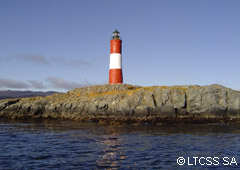 Later, you will be taken to Isla de Los Pájaros (Birds Island) where you will be able to observe magnificent imperial and Magellan cormorants, Fullman and Giant petrels, squas and twenty other species of marine birds.
The last stage of this trip consists of a walk through Bridges Island, along a path of birds and flora interpretation. The guide goes over the history of the island and the Yámanas (or Yaghans), being that the island keeps the biggest "concheros" (shell deposits).
Three hours after the start, on the way back to Ushuaia, you will be offered some tea or coffee with liquor, or even the typical "mate", previously sailing through Paso Chico (small passage), with the spectacular Martial mounts in the background.