Anyone may conclude that the first explorers that arrived on these lands found the "good air of Buenos Aires" and this is the reason why the city got its name.
Also, there are many scientific articles that claim that Buenos Aires is situated on a giant plane where the winds are able to clean the air of pollution.
However, it owes its name to the a Virgen named Bonaira (or the Virgin of the Good Air) that originally belonged to the city of Cagliari, in Italy.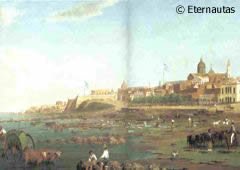 There is a tale that in 1370 there arrived on the beaches of this city a box that contained the image of the virgin with the baby Jesus in one arm and a candle in the other. From that day on she was venerated as the virgin of sailors and was called Bonaira, or Good Air.
She arrived in Spain in the hands of sailors and her cult became popular, especially in the port of Seville where the expeditions to the New Word departed from.
This is how she arrived to the Río de la Plata, carried by two priests who were a part of the group commanded by Don Pedro de Mendoza and decided to name the city in her honor. For this reason Buenos Aires was named "Puerto de Nuestra Señora Santa María del Buen Ayre".
From 1932 the City has worshiped the Virgen Bonaira in the church constructed in the name of "Nuestra Señora del Buen Ayre" (Our Lady of Good Air) located in the neighbourhood of Caballito in the corner of Gaona and Espinosa.