The Argentine cuisine is characterized by a large consumption of beef in all of its cuts and types of preparation.
The asado is the most famous expression of this meat love affair, which entails cooking all parts of the cow over slow burning coal.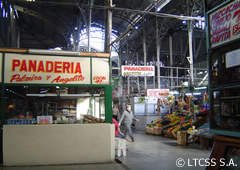 Some colonial foods are still prepared today, including humita (creamed corn), el locro (corn-based meat stew), and empanadas—the original and still most popular fast-food. Empanadas are turnovers filled with spiced or bland meat; they are prepared in the oven or fried, and each region has its favorite way to stuff it. And while there are many fillings, meat is the most popular. And if they are accompanied by wine, many Argentines consider it to be a complete meal.
But there are two other great influences: Italian cuisine which gave porteños the custom of eating pasta on Sundays and pizza anytime and anywhere; and the Spanish with the tradition of tortillas (not the Mexican ones, but the large omelets of Spain), cured ham and fish dishes.
Even the French are represented in the typical breakfast of coffee with medialunas (croissants, or literally half-moons).
Of course, in the "bread basket of the world" wheat products are also very important, and for that reason you will find many bakeries. Here, you can buy fresh bread, in addition to pastries, cakes and cookies.
The top dishes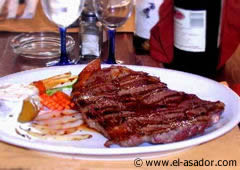 A good bife de chorizo (thick steak, not to be confused with chorizo which means sausage) is an unforgettable experience for all carnivores. A portion of beef is quite large, full of flavor and so tender that it can be cut with a fork. If you don't want to eat too much, you can order "medio bife de chorizo" or half portion. And another variety is "bife de chorizo mariposa" or split cut, which is recommended for those who want a more well-done cut.
The choripán is a chorizo sandwich which can be ordered anywhere, and is great for a quick bite before a football match or in a neighbourhood restaurant. The milanesa a caballo is a fried meat cutlet topped with fried egg.
It is customary to eat ñoquis (gnocchi) on the 29th of each month. This is a traditional Italian pasta dish of wheat or potato dumplings. It is believed that if you follow this custom you will never be in want of money. You need to place a folded bill under your plate. For the luck to last, you need to eat  at least 29 ñoquis, and later save this bill and save it with the others that you accumulate over time.
The sandwiches de miga are a specialty of ultra-thin bread with different types of cold-cuts and fillings, in every imaginable variety of combinations. The most common combination is ham and cheese, and can be ordered in every café in the city.
A traditional dessert is the vigilante (literally, night watchman) that is a combination of cheese and candied fruit.
Dulce de leche is another Argentine specialty, and is used in different types of pastries, cakes and ice cream. It is made by cooking milk with lots of sugar over a low flame until the milk caramelizes.
The helados (ice creams) are of the Italian tradition and are available made with cream or water, in a wide variety of flavors. The best place to enjoy them is in the many heladerías that dot the neighbourhoods, which still prepare them in small batches by hand. Delicious!
The Wine Road in Buenos Aires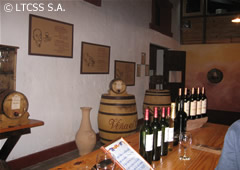 Argentine wines are produced on a large scale and enjoying fame throughout the world, due to their high quality.
Malbec from Mendoza is the most traditional red wine produced by the country and is considered to be the best Malbec in the world by wine connoisseurs.
The best white wines come from Salta, which produces its own varietal, called Torrontés. It is a subtle sweet wine, and is esteemed the wine world over.
For wine lovers, the best wines from different vineyards can be enjoyed in all of the good restaurants in Buenos Aires, where they can be guided by enologists that can satisfy all their needs and answer your questions.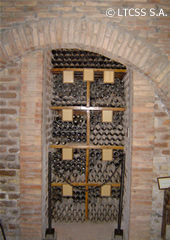 Recently, wine has become more appreciated by a new generation. There are many specialized places where wine can be enjoyed: wine clubs, wine bars and even in the wineries themselves.
Wine stores can be found in all parts of the city, and they offer a large selection of wines from both national and international wineries. The wine clubs are member-only affairs (but open to anyone who pays the monthly fee) and offer limited edition bottles, classes in wine tasting, tours, and more than anything, they are a place devoted to enjoying wine and food.
The wine bars can be found especially in the neighbourhoods of Palermo, the downtown, Las Cañitas and San Telmo. They are especially designed with the devotees of Dionysus in mind. They are open at night and are exemplars of modern design and good service. They offer distinctive types of menus and tapas, and some even offer complete meals. They have large cellars with wines of all types and price ranges, and both national and international wines are represented. And the ability to taste by the glass allows you to sample more wines than in a traditional restaurant.