Route 40 runs alongside the Andes from la Puna until reaching the Glaciers of the South. 
It is mythical for many reasons. For the solitary stretches it crosses. For the peaks of the Andes that guard the route like centennials. And also because its plan corresponds with the ancient travel routes of the first inhabitants of South America. These wise ancestors were knowledgeable about all of the different microclimates where a traveler could find fresh water supplies, the resource which enabled the development of the cities and towns of today.

National Route 40 can practically be considered Argentina's backbone, running along 5,000 kilometers (3,100 mi), crossing 18 important rivers, 20 National Parks and Natural Reserves and connecting 11 provinces: Santa Cruz, Chubut, Río Negro, Neuquén, Mendoza, San Juan, La Rioja, Catamarca, Tucumán, Salta and Jujuy.
Similar to Route 60 in the United States, but many kilometers longer and reaching higher altitudes (almost 5,000 meters -16,400 ft- above sea level in Abra del Acay, Salta), Route 40 has become the new star of tourism in Argentina.
From South to North
 Route 40 is an astonishing road, a rolling myth, the place of places that represents a milestone. For those who dare take it, there will always be a "before and after" their trip on Route 40.
Since its creation in 1935 and while kilometer 0 (zero) was located in Mendoza city, on the intersection of San M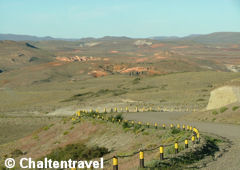 artín Avenue and Garibaldi Street, the route was divided into North and South. But as from 2004, the Highway Department (Dirección Nacional de Vialidad) moved this point to Cabo Vírgenes.
From the current kilometer 0, located 124 km (77 mi) from Río Gallegos -the most southern point of the continent- up to Puna in Jujuy, the route is approximately 5,200 km (3,200 mi) long and goes across a variety of climates, geographies and cultures.
It borders the Andes range for the most part, from latitude 52º to parallel 22º 45', and goes through three different regions: Patagonia, Cuyo and Northwest.
The area of the Patagonian region that Route 40 crosses (Santa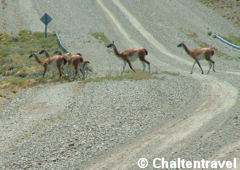 Cruz, Chubut, Río Negro and Neuquén) shows a geography of plateaus and mountains and arid cold climate. This area is characterized mainly by a landscape full of lakes, mountains and forests. Some outstanding points are: Cabo Vírgenes, Río Turbio coal bed and Perito Moreno Glacier in Los Glaciares National Park, Cueva de las Manos in Perito Moreno National Park and Los Alerces National Park, El Bolsón, San Carlos de Bariloche and San Martín de los Andes.
In Cuyo region (Mendoza, San Juan and La Rioja), the geography varies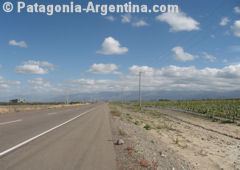 between plains and mountains and the climate is mainly arid. Here, the rivers come down the mountains to provide water for the vineyards, whose products are  internationally well-known . The most outstanding points touched by Route 40 along this area are: Caverna Las Brujas, Las Leñas, Agua del Toro dam, Laguna Diamante, the famous Penitentes, San Rafael, the imposing Aconcagua, Talampaya National Park, Valle de la Luna and Chilecito.
On the other hand, in the Northwest (Catamarca, Tucumán, Salta and Jujuy), the geography presents plateaus and mountains; the climate varies between high altitude arid climate and subtropical. Landscapes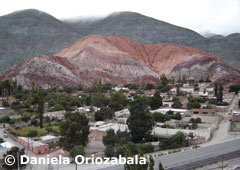 are breathtaking, showing mountains in thousands of colors and green valleys, full of vineyards. But in the northwest the beauty of nature equals the cultural richness, since Inca and Kolla traditions are kept intact, alive and everlasting in each town and every inhabitant of these high lands. Some of the interesting points the route joins are: Santa María, the Quilmes Ruins, Cafayate, Angastaco, Molinos, Los Cardones National Park, Nevado de Cachi, Abra El Acay and San Antonio de los Cobres.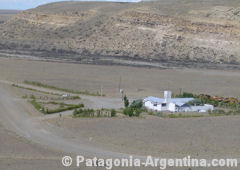 Route 40 and its surroundings bear an endless number of attractive places. Some are displayed as treasures in a showroom. Others are kept a secret. You only need time to discover them. 
Some tips
For those who want to join in a trip along this mythical route, here are some tips:
It is convenient to travel around Cuyo and the Northwest in the winter season since summer rains tend to flood and badly damage the route. In Patagonia, instead, the best time is from October to April, since winter snow and ice make the trip harder.
In terms of clothing, for dry mountain winds or snow storms it is advisable to have a spare change of light clothes and warm clothes as well as sunscreen lotion and related accessories (sunglasses, lip balm, gloves).
Although the trip can be made by car, it is convenient to increase the standard tire air pressure (28 pounds) to 32 pounds.
Water is vital in this kind of trips. You really need to have plenty just in case.
The entire journey, leg by leg, at these articles: