This sort of museum enables the discovery of the mysteries and marvels of the Patagonian sea, in a venue intended for the interpretation of sea ecosystems.

Environmental education and scientific research programmas take place here, as well as artistic expressions. There is also an interesting Invertebrates Pool at the Ecocenter, where one can see how the starfish and anemones move. And there is also the possibility of asking an expert about many related topics.
Ecocentro was built atop a cliff of which it appears to form part, like a viewpoint at a carefully chosen site, a threshold from which to learn things we never knew or had simply forgotten.
With its style, which includes restored elements of Welsh architecture, this building blends freely with the historical tradition of Patagonia.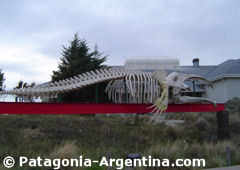 Just outside the building, mounted on a beam of red steel, there is an imposing skeleton which belonged to a right whale that stranded opposite Ecocentro in May 2001.
Permanent exhibitions:
On the Shores of a Cold Sea River: General display in the nave of Ecocentro which looks at the physical, biological, ecological and human aspects of the Patagonian Sea.
Shadows and rumours of whales: Comprehensive display on southern right whales. It includes panels on biology and ecology, a sensorial section, and a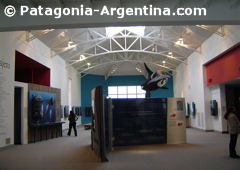 sound installation.
A skeleton on a red beam: Skeleton of a right whale exhibited outside the Puerto Madryn building.
Inhabitants of a tidal pool: Artificial pond that simulates a tidal pool in the Patagonian intertidal zone. It contains living marine invertebrates.
The far deep sea: Display on the geography and species that inhabit the great depths.