In Puerto Madryn you will find everything you need for an excellent diving experience: guides, equipment, boats, safety … and the essential: a sea full of surprises like only Patagonia can offer
Puerto Madryn, by tradition, by project and effort, is undoubtedly the Underwater Capital of Argentina: calm and transparent waters, varied fauna, wide places to dive. The pioneer enthusiasts of the first years of diving, and their followers, endowed it with all the aggregates: parks, deliberate sinkings to create environments suitable for underwater life, plus all the needed services such as boats, instructors, programs where degrees are issued,  equipment rental…
A bit of history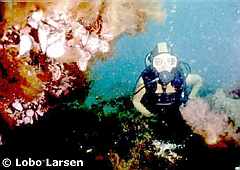 In 1956  arrived in Puerto Madryn Jules Rossi, an international pioneer in sports, who had been a diver during World War II, in the French navy, under the command of Jacques Cousteau.
Surely his first appearances on the shores of the Nuevo and San José gulfs, with the particular attire of the divers, must have seemed very strange for the inhabitants of the then small town of Madryn.
The diffusion of the new sport developed very quickly. Only one year later the passengers of the first ship came to disembark especially to bring divers to these coasts.
In 1958 the "Puerto Madryn Diving Club" was founded. At that time also, the mechanic Juan Meisen Ebene copies equipment from Pirelli and begins the first descents with local made devices. Then the first wetsuits are imported from Europe, an important innovation if the low temperatures of our waters are taken into account. Next, the first diving supplies factory was installed, which continues to operate to date.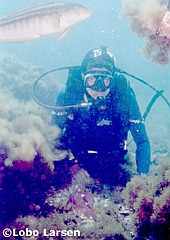 The 1960s witnessed the first intentional adventures. In 1963 it was the turn of six buses, sunk more than 30 meters deep. It was the beginning of the first Underwater Artificial Park in the country.
The Underwater Tourism Promotion Commission of the Bahía Nueva was also born, whose objectives include "projecting and building artificial reefs within the San José and Nuevo gulfs" to provide ideal places for the shelter of the large underwater fauna of the Patagonian Sea . These places are still used for the enjoyment of tourists who go there to perform their "underwater baptism."
Where to dive in Puerto Madryn?
At present, sports-recreational diving is one of the activities that, together with the Whale Watching, make up the "registered trademark" of Puerto Madryn in the eyes of the world. With safety and tranquility, divers from all over the world enjoy waters of incredible transparency, escorted by whales, dolphins and wolves.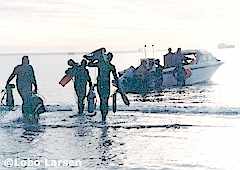 Those who already have a diver's license will find in Puerto Madryn one of the most varied options to practice this sport in its different modalities: deep, night, navigation, nitrox, shipwreck, naturalist, photography, rescue, etc.
In addition to all the sites that we will describe below you can also make excursions on board, in which a group of divers, guides and future divers or simply lovers of outdoor life and adventure, share a few days on board of a ship, being surprised by the hidden corners, the cliffs, the sunsets, the coasts and the fauna that our Patagonia offers. Day and night dives are performed.
Albatros Wreck
In September 1998, the Albatros fishing vessel was intentionally sunk to build a recreational dive site. With 30 m. of length, it is seated on sandy bottom, slightly shored  on port. Underwater flora and fauna have found there an unbeatable place to develop, so it is constantly increasing. Lobsters, crabs, sea spiders, sea potatoes, red, brown and green algae, sargos, groupers and large salmon can be observed.
Punta Este Park
It is a natural park where you will find a rock formation covered with anemones and polyps of striking colors, bivalve molluscs and green, red and brown algae. There are also many fish that use small caves and crevices to protect themselves from sea lions, their natural predators.
New Park
It is located in front of the beaches of Puerto Madryn and has an average depth of 8 meters. It is an artificial reef, formed from small wrecks, among which there are cars, intentionally sunk to create an environment where you can find both the reef fauna and the sand fauna, a unique feature of this park. It is ideal for beginners outings.
Shipwreck Folias
Only 300 m. off the coast, in front of Paraná Beach, is this fishing vessel whose shipwreck dates from the 1970s. It has 60 m. of length and is totally ported. The bottom on which it is located is clayey, semi-sunk and at low tide the starboard band and part of the superstructure can be seen out of the water. It is covered by algae (red, brown and green), anemones and polyps, molluscs and crustaceans. There are mere octopus and nocturnal habits that inhabit its interior. It is the largest shipwreck in the area. It can be accessed from the coast or on board.
Kouturiaris and Jorge Antonio shipwrecks
Normally a single exit is made that covers these two shipwrecks, since they are very close to each other, on both sides of the Admiral Storni pier. Jorge Antonio is a fishing vessel that accidentally sank during a storm in December 1991. It is buried in the clay bottom to the midline of the ship, on port. The Kouturiaris ship also sank accidentally, in the 1970s, after a fire that completely destroyed it. It has 60 m. of length, it is totally shored and supported on its port band. At low tide, the part of the starboard band emerges to the surface. It is currently covered with mollusks, brown, red and green algae, crustaceans (dog teeth, crabs, sea spiders) and fish, especially groupers and salmon.
Punta Cuevas
Here, on a sandy-rocky bottom, with small restingas, about 300 m. from the shore, you can see octopus and starfish. It is a suitable place for beginners and also for snorkeling.
Las Piedras Park
About 200 m. To the north of the Almirante Storni pier is this park. It is a large submerged restinga, with a maximum depth of 9 m. You can see cave fish, starfish, polyps, anemones, hedgehogs, barnacles, snails, among other varieties of  fauna, along with small submerged forests of algae brown.
Emma Wreck and Deep Park
Emma is a three-mast steam sailboat, made of wood and metal, which sank on January 20, 1947. The keel is seen because it is fully inverted and buried in the background. Around it was created the Deep Park, which was the first artificial park in the area. Its depth is around 17 m .. It was created with a bus and other small shipwrecks, ideal home for cave fish.
Rio de Oro wreck
It is also an old shipwreck, since it is a sunken ship at the beginning of the last century. Its construction material was mainly wood, in many parts finely worked. It is supported on a silty bottom and is divided into two parts, perfectly appreciable. The average depth is 16 m.