Madryn itself deserves a city tour, where you will find many historic and tourist sites.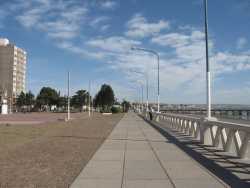 A good option is to start at the coastal Boulevard at the corner of Wales Avenue, where a helix and other remainders of the
Transporte Villarino ship which sank near the city in 1880 are kept. From there take a stroll along this long coastal avenue up to the end where, to your left and on the beach, there are lots of services: windsurf, submarine baptisms, scuba-dive and of course rental of sun umbrellas, tents and all you need in order to enjoy a perfect day at the beach. To your right you will find lots of hotels, residentials and beautiful rental houses.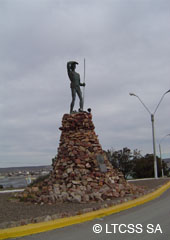 Close to the end and climbing the cliff, the council campsite is located. Right there you can see the monument to the Tehuelche aborigine, a perfect lookout point to the whole of the city and the Nuevo Gulf. You are now at Punta Cuevas, the place where the first Welsh settlers disembarked at. It is possible to observe the caves that constituted these people's first "houses".
You will spot the trendy and modern Ecocenter a bit far ahead. This sort of museum enables the discovery of the mysteries and marvels of the Patagonian sea, in a venue intended for the interpretation of sea ecosystems.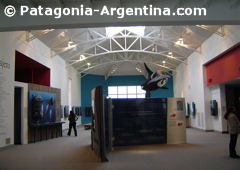 Back to the center of the city, at the crossing of 28 de Julio and Mitre streets, the St. Martin's Square is located surrounded by the council houses, the church and antique buildings. It is also advisable to visit the Provincial Oceanographic and Natural Sciences Museum, situated at the Pujol Chalet, very close to the Luis Piedrabuena pier.
Puerto Madryn is a must-visit destination in Patagonia.