Punta Tombo penguin rookery
Punta Tombo is the most important Magellan Penguins colony within continental Patagonia. More than a million and a half of them arrive at this place every year in order to breed.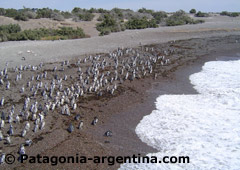 Every year, along with the warm and longer days of Spring, the penguins arrive at the Patagonia coasts. Learn how can you make the most of your visit to the land of the Elegant Gentlemen.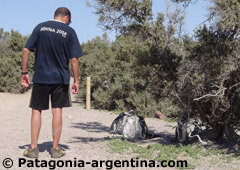 The first penguins arrive in September and stay here up to mid March but the best season to see them is after November, once the babies are born.
One of the greatest features of this Reservation is the fact that you can see the penguins up close.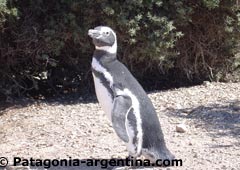 There is one requisite: you must never touch or bother it. You must not forget that you are inside a fauna reservation, a special place devoted to preserve this species and its natural habitat. Besides, although penguins are harmless and they are not aggressive at all, if they feel threatened they will defend themselves with their strong, sharp beak.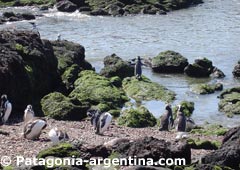 This fauna reservation was created in 1979, by means of a decree of the Chubut Province, with the purpose of protecting one of the sites with the most diverse fauna within Argentina, and the greatest continental Magellan Penguins colony.
Inside the reservation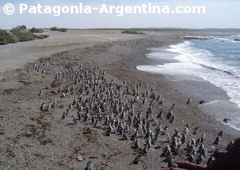 Entrance to the penguins colony is via the Ranger booth. There, you pay the entrance fee and you can obtain information about the different paths available and the behavior you must stick to when close to the penguins.
Once in the paths area, you will see that the zone open for public access is clearly delimited by a wire netting. Do not trespass it!. Also, you have to be specially careful with the penguin nests, which are excavations they make between the bushes and the sides of the paths.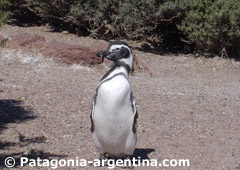 The penguin families are generally under those bushes but also walk around everywhere going to and coming from the sea, in order to get the food and nourish their babies, who wait in the nests.
All the place is well signaled with bilingual (Spanish-English) notices that serve as a guide and also describe the penguins in depth.
How to get there?
You can hire an excursion from the cities of Puerto Madryn, Trelew or Rawson.
If not, you can go with your own car. Departing from Puerto Madryn (the farthest point), the routeis:
–          National route 3 (paved) up to Trelew (67 Km.)
–          Then take Prov. Route 25, up to Rawson (paved too)
–          At 7 Km. you get to the crossing with prov. Route 1, that leads to Punta Tombo.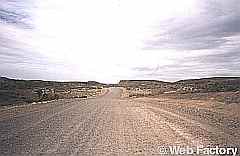 –          The last part is 60 Km. gravel road so, although it is well maintained during the penguins season, special care must be taken when driving along these type of routes, respecting the speed limit of 60 Km./h.
This route traverses many "estancias". So you must remember it is private property.
The journey demands from 90 to 120 minutes, one way.
You have to get enough petrol because there is no a single place to get it all over the route.
It is highly recommended that you start early in the morning in order to make the most of the day. You should devote a full day for this tour since the driving part of it is rather tiresome.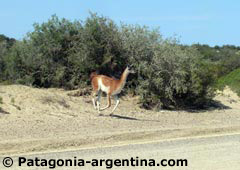 On the way back, you should not miss a visit to Trelew as well as a great Welsh Tea at one of the many tea houses available at Gaiman, the place the Welsh chose to settle at.
4 days, 3 hotel nights with breakfast. Taxes. Transfers in/out airport-hotel-airport at Puerto Madryn. Excursion to Península de Valdés. Excursion Punta Tombo (penguins colony)
Transfers in/out. 4 days, 3 nights with breakfast. Excursion Perito Moreno Glacier. Nautical Safari. Excursion Estancia Cristina Classic (summer) or Rivers of Ice (winter). Bilingual (Spanish-English) guides. Taxes.
3 hotel nights at each destination with breakfast. Taxes. Transfers in/out at the 3 destinations. Excursion to Península de Valdés. Whale Watching navigation (July to Dec) or...
In and out transfers at every destination. 3 nights lodging in Buenos Aires. 3 nights lodging in El Calafate. 3 nights lodging in Ushuaia. 3 nights lodging in Iguazú....
4 hotel nights with breakfast. Transfers in/out airport-hotel-airport at Bariloche. Excursion Small Circuit. Excursion to Victoria Island and Arrayanes' Wood. Excursion to S.M. Andes via the Seven Lakes.
2 hotel nights at each destination with breakfast. Transfers in/out airport-hotel-airport at Ushuaia and El Calafate. Excursion: National Park Tierra del Fuego and End of the...