Driving across Patagonia (Part One)
Traveling in your own car in Patagonia is a challenge many times. Roads and paths are not always well kept or there is no pavement, not to mention the solitude that characterizes the argentine south. Our collaborator Mariano Fernandez Soler writes two chapters telling us everything we have to have in mind when starting our safe trip.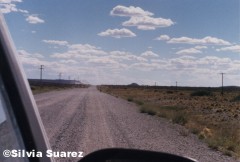 To those who like driving long distances with friends or family and visiting the country by car, Patagonia offers one of the widest and wildest circuit of the country, with many advantages and some of the most beautiful and overwhelming views of the world. When figuring our budget it is also good to remember that starting at parallel 42, that is, in sierra Grande if driving Route 3 or San martin de Los Andes if driving route 40, petrol costs about half its regular price.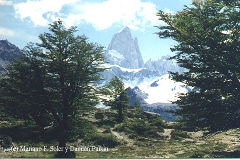 Before hitting the Patagonian road, it's important to remember that the distances to be driven are very long ones, there are circuits that can go as far as 7,000 kilometers, and also remember to prepare your vehicle in order not to have any inconveniences on the road. I think it's a myth that, in order to go to Patagonia, you need a 4x4 truck or an indestructible and super car. You just need your will to do it and some precautions. These are some suggestions so that your trip will be a perfect one:
a) Mechanic checkup of your vehicle
Since distances are big and towns are quite separated one from the other in Patagonia, you will often travel (especially on route 3) along a desert; so if your car happened to break down half way between two places (Murphy's law) you'd find out that the nearest garage or gas station is 100 or 200 km away and help can take more than wanted to arrive. Besides, between places and especially on the routes than join the Andean and the coast regions, cellular telephones will not have service (which will make you want to throw it away through the car window) and help must be asked to passers by who, though few, will stop in the 95% of the cases. This foreword is to pay due attention to the mechanic checkup which will not be the same as for a trip to the near coast.

The principal matters to be technically controlled are:
Adjustment and carburetor: you can take your car to a reliable garage and ask to have everything checked there.
Suspension: since some routes are a little demanding for the car suspension, it's important for it to be working properly, not only for the comfort of the passengers but also for the long way to travel. It could cause a tire to become useless and also, on rubble roads a good suspension system helps the car go more time on the ground than on the air (really, it's important).
Brakes: must be working perfectly for obvious reasons.
Electrical System and Lights: it could happen that you have to travel at night and it is necessary to have them working positively, and also it's no fun to have to push the car up the road if the engine doesn't start because of insufficiency of battery.
It's recommended to have the oil changed and align the wheels before departure if the trip is a long one.
b) Tires
It's a main point for a quiet trip, as well as mechanic checkup. A pair of flat tires, common on rubble roads, can leave you in the middle of nowhere ( as it happened to me in my first trip).
My suggestions are:
All tires must be in a good condition, that is, they must have at least a design of 3 or 4 mm of depth, not be deformed or excessively wasted on the sides (symptom of alignment or suspension problems) and be well balanced.
The minimum number of spare tires for cars is TWO, if you bring only one you will probably remember this website. Logically the spare tires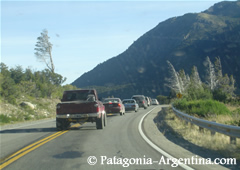 must be in good condition and also be the same type and model of the usual wheels if possible. The reason is not a useless one: if you use two types of tires (radial and conventional), the transmission could be unstable (especially on a wet road); if the designs of the tires are different, the distinct "grip" can cause the action of braking to turn into a loop, especially if the road is wet.
For station-wagons you also need TWO spare tires but, since you have more room for them and if the tires are not new ones, you can carry THREE (in fact, in many places in Patagonia, rural inhabitants, who often have station-wagons, generally carry THREE spare tires).
For cars it's convenient to carry the tires immovably fastened on a roof-rack (bars or grill) for there will be no room for anything else in the trunk if you keep the tires there. Though it's not a good thing to carry anything on the roof, it's better to have tires up there and not bags. Tires must be held to the rack in order to avoid their moving back by effect of the wind or air strikes caused by trucks driving in the opposite direction. If the tire is tied up only with the blue rope in the picture, it can move backwards and hit the back window.
The elements to change tires must be in good condition and complete, because if halfway your destination you find that you are missing the tools to pull the security nuts or the handle to make the jack work, you'll go crazy trying to do magic. Finally, it's not a bad idea to have a small compressor that works with the car battery; they are not very efficient but they're better than nothing at all.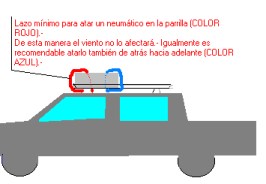 c) Tools and spare parts
Though you cannot make a difference between a spark plug and a crank, it's essential to carry tools and some spare parts in the car. If you cannot repair a deficiency, maybe the person that stops to help could do it and it would be absurd not to be able to fix a minor disadvantage because you don't have a simple screwdriver or a pair of spark plugs. The most necessary tools are (in my opinion):
* Screwdrivers
* A set of wrench for fixed nuts
* Wrenches
* Pincer for wires
* Hammer
* An iron bar (like the handle of the jack)
* Clamps
* Spark plug remover
* Wire for battery bridge
* WD-40 (useful to dry distributor in case it gets wet)
* A coil of wrapping wire
* Wire of 4 mm and assorted fuses (find out what are the ones for your vehicle and where the fuse compartment is located)
* Flashlight and two spare bulbs for it.
* And obviously, everything you consider might be useful on the road.
Spare parts are evidently the right ones for each automobile, but the most common and necessary are:
* Transmission straps
* Spark plug
* Petrol and air filter
* Sealer of petrol tank and oil tank
* Accelerator wire
* Oil of the same brand and type as the one in the oil tank.
* A container with distilled water Again, add whatever you think would be of advantage for your trip.
d) Driving in Patagonia
First of all, think of some very important things before starting your trip:
1) you will be on vacations, not in Paris-Dakar Rally.
2) Think that the least thing that an accident will cause will be to spoil your vacations.
3) Your companions depend on you, the driver, so they are in your hands.
4) Don't try to do in ten days what should take a month: YOU WILL NOT ENJOY IT.
5) Speed limits and traffic rules (especially on rubble roads) are not ornamentation.
6) Get off the city rhythm. There's a saying that goes "To be in a hurry is only a way to disguise that you have nowhere to go".
It's a nice custom, especially in the south of the country, to flash light as a way to say hi to the cars going in the opposite direction. It's a custom I practice myself, but with an exception: only during daylight because during the night you will blind the other drivers.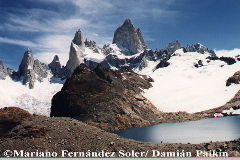 If you ever see a still car on the road, slow down and ask if they need any help, it's improbable to be robbed, there's little traffic and the people gentleness in the south is part of the charisma. Besides, if you have a problem you'd love others doing the same for you.
Finally, obey the traffic rules; let's not keep on increasing the rate of traffic accident fatalities.