Punta Walichu is a historical and archaeological site is located 9 km. away from El Calafate. Walichu or Gualicho is the name of a Tehuelche deity. And this name suits perfect this place because it has a magical ambience.
It consists of a number of caves at the foot of the cliff on the shore of Lake Argentino. To get to them you only need to travel 9 Km from El Calafate, in a visit that can last about 2 hours.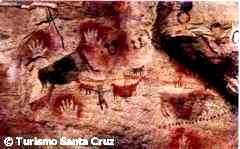 The first inhabitants of these lands, who came during the Glacial Age and probably were predecessors of the Tehuelches, were hunters. For this reason they printed in the walls of these caves drawings that show their hunting methods and the animals that lived with them. There are also the classic "painted hands" and the strange labyrinths that probably represented the difficult path to a new re-incarnation.
They were pretty skilled at the art of rock paintings and the quality of the colorants they used permits that still today we can admire these testimonies from those who preceded us in these distant lands.
Perito Moreno discovered these caves with pictures, drawings, signs and manuscripts, in 1877. These archaic pictures are considered to be over 4000 years old.
To get here, you start in El Calafate. Go along Libertador Avenue up to Route 11 (asphalted). Once there, continue up to Km 6 where you must turn left in a narrow road and continue 3 Kilometers up to the parking lot, by Lake Argentino. You will spot a sidewalk that descends to the beach and finishes at the Estancia 25 de Mayo's Interpretation Center, where there is a snack bar and a gift shop.
From this point on a guide will escort you up to the Caves.