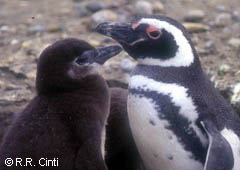 Travel 24 km Towards the port of Punta Quilla, there take the detour that departs from Estancia Monte Entrance to arrive after 2.5 km to the Magellan penguin colony. These birds arrive at this coast at the end of August, when they reproduce. They retire in April during the pelagic period.
The place also offers numerous "picaderos" or "indigenous stopes", where it is possible to find arrowheads, spears, scrapers and boleadoras of great historical value.
An interesting option is to get to the penguin colony from the pier of the port, you have to travel 4 km. On foot along beaches of sand and pebble. The landscape of this road is of great cliffs where there are abundant fossil remains of marine invertebrates.