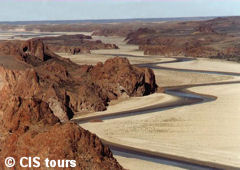 This ría (drowned valley or drowned river valley) is unique in its geology and fauna and it has been declared Reserva Natural Intangible (Natural Reserve) both for its beauty and its scientific interest.
It is the only river in South America that abandoned its course, which was then invaded by the ocean.  The origin of this region is the result of centuries of erosion caused by the Deseado river over the surrounding plateau, which formed large eye-catching mountain valleys or canyons.
One of the characteristics of this special environment is the existence of five different species of cormorants, a kind of bird that inhabits maritime areas. Another inhabitant of the ria is the Magellan penguin, which can be seen between October and April. The main penguin colonies are: Islote Punta del Paso, Isla de los Pájaros, Isla Quiroga and Isla Chaffers.
Along the ria coast you can find many attractions. You can visit the Balneario de las Piletas, Punta Cavendish, Cueva de los Leones, Muelle de Ramón, Cañadón Jiménez, Cañadón del Puerto, Paraje la Mina.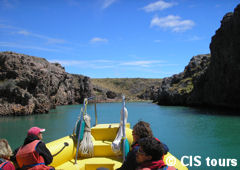 It is a great area for fishing, and if you enjoy this activity you will have the chance to fish species such as sea bass, forkbeard, sandsmelt, and different varieties of sharks, of which the "tiger shark" is the most common. In summer, the Certamen Patagónico de Pesca de Tiburón (Patagonian Shark Fishing Contest) takes place.
For those who like more adventurous activities, kayak is one of the most practiced sports in the area.