Along 90 km. on National Route 22 and following the Negro River, you find the most populated and developed Patagonian region.
The population in this area reaches 250,000 people that added to the city of Neuquén and vicinity reaches almost a million people, representing 33% of the Patagonian population.
From the city of Cipolletti, situated near the river source and at 5 km. from the city of Neuquén, to Chichinales, you go through General Fernández Oro, Allen, M. Guerrico, J.J. Gómez, General Roca,
Steffenelli, Cervantes, Mainqué, Ing. L.A.Huergo, Gral. Enrique Godoy and Villa Regina.
The most important cities are General Roca, Cipolletti and Villa Regina.
Away from these routes towards the northwest we find the towns of Cinco Saltos, Contraalmirante Cordero, Villa Manzano and in the extreme north of the Province of Río Negro, already outside the valley, the city of Colonia Catriel.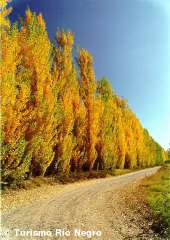 This area is rich in oil, gas and hydroelectric production but there is no doubt that the importance of this valley is mainly due to its fruit production, specially apples and pears, covering national demand and is also directed to foreign markets through the Port of San Antonio Este.
Until 1930, when the farm irrigation system was completed, the predominant crop was alfalfa for trading in cattle raising areas.
The area under irrigation covers today close to 70,000 hectares.
Thanks to this activity, it is possible to visit packing plants as well as related industries like the elaboration of cider, juices, champagnes and wines designated "Wines of the cold zone".
Many tourists use this zone as a corridor towards the Andean region.
The climate is very hot in summer and it might be worthwhile to spend the night in the region to enjoy the beaches of  Negro River or at Lake Pellegrini, near Cinco Saltos.
A visit to this area during the spring is an attractive proposition when apple and pear trees are in bloom. The hospitality of the inhabitants of the region will help you enjoy your stay.
What to see around?