In Argentina it is common to hear "Atlantic Coast" referring to the beaches of the Province of Buenos Aires which are relatively close to the city of Buenos Aires. But not everybody knows that not too far, in northern Patagonia, there is an incredible variety of beaches, resorts and nature in its purest form.

These twin cities share their history and also the Río Negro, that separates them. We begin our journey on Provincial Route 1.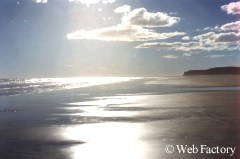 The most interesting part starts at km. 30, where the Río Negro flows into the Atlantic Ocean. You will find here Balneario El Cóndor, a small beach resort with all the necessary tourist infrastructure to make your stay more than enjoyable.
Twenty kilometers from here you will be able to observe the great sea lion colony. Adventure stars here, gravel roads, the eternal patagonian desert, dunes and the blue and green sea. Nobody can imagine the fantastic places offered by this unexploited area.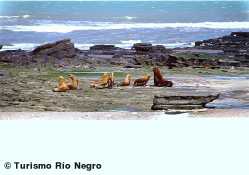 An almost virgin territory, hundreds of places for fishing, Bahía Rosas, immense, blue and recommended for the capture of sharks.
Another surprise, from the high cliffs of Bajada Echandi, where you will probably be alone; your dream of having your own private beach here will be granted, at least for a few hours… On this so called "Camino de la Costa" (Coastal road) it is possible to see different species of the patagonian fauna, such as choiques (small ostriches), guanacos, martinetas, partridge and maras (patagonian hare), among others.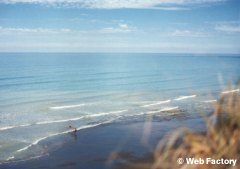 Continuing towards the east you will find a small oasis, Bahía Creek. Only a few houses, wide beaches and the possibility of finding stones carved by the aborigines of the area in the surrounding dunes, and the option of collecting mussels of a large size. Further ahead, a marvelous place, also with a few houses, during low tide you can observe the smooth incline of the beach. Just a few kilometers there is yet another sea lion colony.
According to some, in Pozo Salado, there is a submarine buried in the sand, but this has not been proven so far. Presumably the nazis landed here after the Second World War.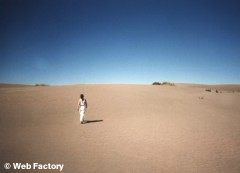 Continue to Winter and Saco Viejo, the beach access to the Puerto de San Antonio Este. There is an abundance of clams, and as usual, beautiful beaches. To continue the trip, you will have to go back to Route 3 and reach Balneario Las Grutas, the most popular resort in the area. Its privileged location in the San Matías Gulf, its almost warm waters, great variety of hotels, family houses and campings, make this place a mandatory stop.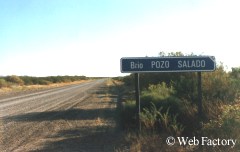 But this tour does not end here. 90 km. on Route 3, a paved road, you will reach Sierra Grande, a spectacular site you should not miss, together with Playas Doradas, where you can witness incredible sunsets. The clear waters are ideal for diving.
This is all for today…further south, the Province of Chubut… Península de Valdés, Puerto Madryn…and a lot more of this magnificent Argentine Patagonia.