Perito Moreno National Park
Perito Moreno National Park is located on the Northeast of Santa Cruz province, in the Department of Río Chico. It covers a surface of 115,000 ha. It was created on May 11, 1937, in order to protect a representative area of the woods of t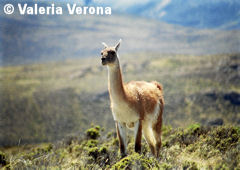 he Andean-Patagonian region, together with a portion of the Patagonian Steppe environments and a transition area between both of them.
This Park is located 220 Km. (136 mi.) from Gobernador Gregores, 94 Km. (58 mi.) from Paraje Las Horquetas, 300 Km. (186 mi.) from Perito Moreno, and 180 Km. (112 mi.) from Bajo Caracoles. It can only be reached by land, through National Route Nº 40, connecting with Provincial Route Nº
37 up to the Park.
Apart from embracing wonderful landscapes and native wild life, the Park is one of the richest archeological sites. It gathers cultural traces of Tehuelche ancestors, in the form of rock paintings in caves and eaves of the Casa de Piedra Hill.