In the beginning this territory of 23,700 hectares, in the northwestern part of the Chubut Province, was part of Los Alerces National Park. But in 1971 it became independent of it, with the purpose of preserving the River Puelo basin.
Lake Puelo is a beautiful water mirror which drains in the Pacific Ocean through the river with the same name. At its surroundings there is a valley with a particular microclimate. This valley is some 200 m. above sea level, a rarity in the Andean National Parks.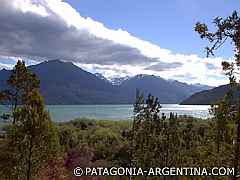 The vegetation you can expect here is typical of the Chilean Valdivian jungle: hazel trees, elms, tiques. And also there is the typical flora of the Andean-Patagonian woods: cypress, coihue, radal, arrayán and many others. Also, the always present rosa mosqueta, which in fact is an exotic, invader species.
Among the protected animals there is the pudú (small deer), the huemul, the red fox and the puma. At the rivers and lakes there is autochthonous fish like Creole trout and exotic species like rainbow trout.
The first inhabitants in this region were hunters and collectors living in the steppe. They left their testimony in many expressions of rock art which can be seen today inside the Park. Most of them are very geometrical and red colored, possibly signaling paths.
How to get here?
The closest town is El Bolsón, some 120 Km. from Bariloche on National route 258. Finally, a secondary road leads into Lake Puelo's margin. At El Bolsón you have all the services a tourist will need: lodging, restaurants, shops, hospital, telephone, etc…
Inside the Park, on the Lake's shores, there are two campsites being one of them organized and the other one free. There is also a recreational area, with services like rides across the Lake and horse rental. This Lake's waters are quite warm and, at the place called "La Playita" (Little Beach), the moderate depth featured by the lake makes it suitable for a great swim.
Many trekking paths take you inside the wood. There are paths for all the tastes and with a diverse level of difficulty. For instance, the road to the Lookout point is only 800 m. long (a must see place) while the Sendero a los Hitos demands a walk of nine hours.