Located in the Northwest of the Province of Santa Cruz, Patagonia National Park has 52 thousand hectares and was created after the donation of land to the State by Rewilding Argentina Foundation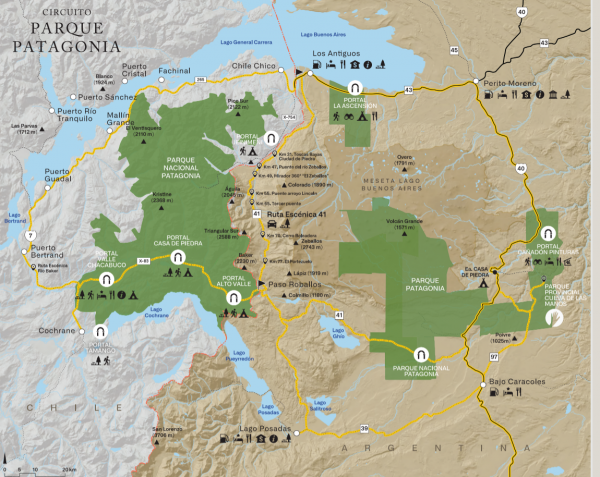 This foundation acquired, in 2015, 24 thousand hectares of Estancia Los Toldos. It also acquired 20 thousand hectares of Estancia La Ascensión on the majestic Lake Buenos Aires. At the end of 2018 the National Executive Power issued the decree by which the natural reserve was created. Then the National Parks Administration accepted the donation, founding the Patagonia National Park.
It is an area of impressive and almost virgin landscapes overlooking Mount Zeballos that houses the only extra-Andean glacier in the country. It covers mountains, steppe, rivers and lakes and is home to the Macá Tobiano, a native bird of Southern Patagonia discovered in 1974.
The creation of this National Park aims especially at the protection of the Macá Tobiano since it is in danger of extinction due to the presence of exotic and invasive species such as rainbow trout, the cook seagull and the american mink.
It is also an area loaded with great archaeological finds such as petroglyphs 3000 years old. These rock carvings in volcanic rock are at 1300 meters high and its authors are not yet known.
The circuit has two free and public access portals. La Ascensión portal, with a beautiful network of trails that extend from Lake Buenos Aires to the Plateau of Lake Buenos Aires. The second portal is the Pinturas River Canyon where there is a shelter. This entrance also has a network of trails of different difficulty where you can access, through one that crosses the Cañadón del Río Pinturas, the Hands Cave Paintings Provincial Park, which is the most important archaeological site in Argentina. There are also other trails such as Cerro Amarillo, the Sumich plateau and Tierra de Colores.
To get there, the closest is by plane to Comodoro Rivadavia. From this city by car or bus to Los Antiguos. And from there it is 170 km more to reach the Patagonia National Park. The area that can be visited nowadays is the entrance to it, just 30 kms from Los Antiguos and the Portal La Ascensión, located in the old quarter of the homonymous ranch where there is a small network of trails that are very easy to follow, a tea house, craft brewery and a free camping area, with toilets.