This forest originated in the middle of different climatic conditions from the present ones. The Andean Range did not exist, winds from the Pacific Ocean caused copious rains over Patagonia, allowing the growth of exuberant vegetation, mostly of the "araucatis mirabilis" species, with trees towering up to 100 meters.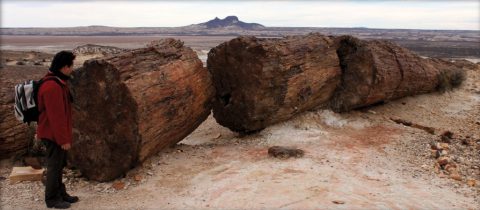 During Cretacic, an intense volcanic activity and the rise of the Andean Range caused the death of natural life. The forest remained buried under the ashes and a long subsequent procedure produced the death of the forest.
Nowadays, this incredible place is away from any populated area, in the middle of the desert, dry climate and no water due to the lack of rivers or lakes. There  you can contemplate the largest petrified trees in our planet.
How to arrive
Make Puerto Deseado or Caleta Olivia your point of departure. From either one you have to reach Fitz Roy. If you leave from Puerto Deseado you will travel for 126 km. before reaching Fitz Roy and leaving from Caleta Olivia is 87 km. away. Once you are there, take National Route 3 south for 70 km. to the crossing with Prov. Route 49, which is a dirt road for some 50 km.
The National Park
Since December 2012 this area is part of National Park Petrified Forests of Jaramillo, created to preserve the biggest petrified trees of Planet Earth.
Some trunks correspond to specimens that were already 1,000 years old before dying under the ashes. The trees have their roots there, they have not been moved by the wind or by any other natural action, this is why it is a "forest" and not an "outcrop".