Its declaration took place in 1954, in order to preserve one of the best examples of petrification of the extremely antique forest that has existed on the Patagonia.
It is situated 150 km west of Puerto Deseado, in Santa Cruz Province. It is about 13.700 hectares large, even though an effort of inclusion of two more estancias is taking place, after which it would reach a size of 60,000 hectares.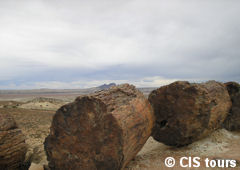 During the Jurassic period, the climate in this area was highly humid, allowing the growth of immense trees, belonging to the current Araucaria family. Later, during the Cretacic period, many volcanic eruptions caused the extinction of large extensions of Patagonic forest under the ashes, thus starting a petrifaction process.
Later on, the wind and rain uncovered this marvelous "Bosque Petrificado". Nowadays, even some trunks are still standing.
There is a path approximately 1,000 m long that covers the place along which the petrified araucarias can be seen.
Note it is categorically prohibited to pick up objects or samples of the trunks. It is a natural monument, please respect it!
This paleontology site is a an interesting example of how capable plants are of adjusting to so severe an environment: compact and semicircular plants growing at ground level, cactus species with orange flowers, different varieties of daisies, and, in the more protected places, bushes like duraznillos, molles and calafates.
Regarding the wildlife, small groups of guanacos and gray foxes, guanacos, Patagonic piches, and choiques (short rheas), can be observed very close to the araucarias path.
How to get there?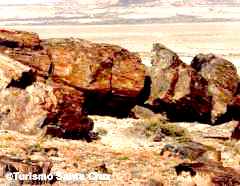 In order to get to this natural monument you need to take provincial route 49 for 50 km., at kilometer 2,063 of national route 3, between Caleta Olivia and Puerto San Julián towns, in Santa Cruz.
You need to carry drinking water, food and petrol, as the closest town is located more than 200 km away.