Petrified Forest Natural Monument
This incredible place is away from any populated area, in the middle of the desert, dry climate and no water due to the lack of rivers or lakes. Laguna Grande, a shallow lake, stays dry due to the permeability at the bottom. Make Puerto Deseado or Caleta Olivia your point of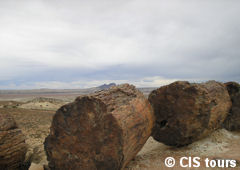 departure. From either one you have to reach Fitz Roy. If you leave from Puerto Deseado you will travel for 126 km. before reaching Fitz Roy and leaving from Caleta Olivia is 87 km. away. Once you are there, take National Route 3 south for 70 km. to the crossing with Prov. Route 49, which is a dirt road for some 50 km. You will then reach this reserve created in 1954 to preserve the most important fossil site in Argentina.
On arrival, the ranger will explain the geological history of the site.
This forest originated in the middle of different climatic conditions from the present ones. The Andean Range did not exist, winds from the Pacific Ocean caused copious rains over Patagonia, allowing the growth of exuberant vegetation, mostly of the "araucatis mirabilis" species, with trees towering up to 100 meters.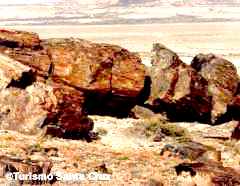 An intense volcanic activity and the rise of the Andean Range caused the death of natural life. The forest remained buried under the ashes and a long subsequent procedure produced the sudden death of the forest. After 1,400,000 years we can contemplate the largest petrified trees in our planet.
Some trunks correspond to specimens that were already 1,000 years old before dying under the ashes. The trees have their roots there, they have not been moved by the wind or by any other natural action, this is why it is a "forest" and not an "outcrop".
You can contemplate these colossal trees, touch their granitic hardness and admire their grandiose appearance. A site not to be missed!
Visiting hours are from 10:00 am to 8:00 p.m. Admission is free and although camping is available (no services), you are not allowed to stay overnight in the whole jurisdiction.